Coppersmith replaces Foust as academic vice president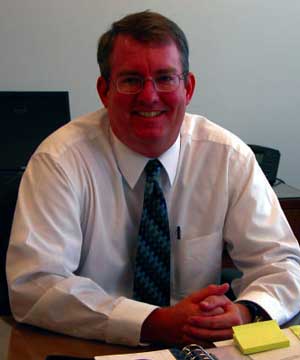 This archived article was written by: Carli Jensen
A seven-year member of the CEU Faculty, Dr. Cliff Coppersmith was appointed by President Ryan Thomas as Vice-President of Academic Affairs in June. In a wide ranging discussion conducted with CEU's newest Vice-President Dr. Coppersmith presented his views on the college, his new role, and the future of CEU.
Coppersmith believes that CEU is poised to enter a new phase in its development as a community college. As you have probably noticed faculty and staff are in the midst of moving offices and operations from Old Main to the new Reeves Classroom as well as moves to the CBB. For the past several weeks he has assisted Physical Plant staff in facilitating the relocation of faculty from their old offices to new offices in Reeves and the CBB.
Coppersmith believes that this will be a year of re-building and a year of introspection–evaluating CEU's current situation and planning for the future. CEU and her sister institutions throughout the state continue to face tight budget prospects and the necessity of creatively using the budget we already have to maintain and improve academic programs. According to Dr. Coppersmith, both he and President Ryan Thomas wish to reinforce programs that are experiencing growth and have potential for more–especially nursing, education, and criminal justice. CEU's vocational programs are also doing well and the administration continues to support their contributions to CEU's mission as a community college.
He also plans to work towards improving communication on campus. Over the next year he plans on evaluating the academic mission of CEU and in discussions with students, faculty, staff, and other administrators eventually putting his vision of CEU's potential in writing in a "Blue Paper" that would serve as a starting point for planning CEU's immediate future.
Another area of concern for Coppersmith is enrollment. According to the vice president, the foundation for bringing students to campus are strong academic and vocational programs that make CEU a destination for education and training.
He will be working with other administrators to spread the word of CEU's strengths and to improve the quality of students' experiences while they are here so that CEU students continue to be our best recruiting agents as they return home to family and friends and share the positive experiences they've had while attending CEU.
Coppersmith believes in the mission and role of the community college system and is a product of a community college himself. He graduated with an A.A. from Jamestown Community College, Cattaraugus County Campus in 1984. He earned his B.A. in Public Policy and Latin American Studies from Brigham Young University in 1988 before entering active duty with the United States Army Reserve and employment with the Central Intelligence Agency. While working in Washington, D.C. he attended the Foreign Service Institute.
Coppersmith began his academic career as an Adjunct Instructor of political science and international relations at Jamestown Community College, Cattaraugus County Campus while completing his M.A. in history at St. Bonaventure University where he graduated in 1992.
Shortly thereafter he began doctoral studies at Oklahoma State University in Stillwater, Oklahoma where he completed his Ph.D. in history and anthropology in 1996. For his dissertation he completed an ethno-historical study of the Fort Sill Apache Tribe of Oklahoma. He has presented a number of papers and published articles and book reviews in connection with his research. He began his career at CEU with an appointment to a tenure-track position in the Department of History in 1996.
He has been a member of the College Senate since its inception in 1996 and has served as Secretary, Acting Vice-President, and Vice-President since 1997. He directs CEU's School of Outdoor Leadership and Environmental Studies and chaired the Department of Historical and Cultural Studies. Born in the British West Indies in 1962 he grew up in Western New York. He and his wife, Kathleen Ann Cory, have three children and reside in Price.
Coppersmith believes it is important to keep in touch with students and will return to the classroom for Spring 2004 semester after taking a break from teaching duties this Fall. He believes in CEU and its potential to be the best community college in Utah and hopes to make a contribution to CEU's continued growth and success during his term as Vice-President of Academic Affairs.