It's nice to have you back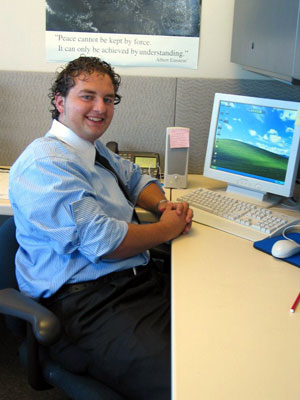 This archived article was written by: Jed Lloyd
Welcome, to the new freshmen, and welcome back to all the returning students!   You have all made an excellent choice in coming here to receive your higher education.   It is a superb institution, and it's wonderful to have everyone here.   It is so nice to drive past the dorms and see the parking lots full, and people hustling around campus.     The beginning of the school year is such an exciting time.   It is a time of change and growth.   We will all be experiencing many firsts during the next year.   It may be the first time we are living on our own, our first college class, our first bad grade, our first good grade, the first time we have gone shopping for groceries, or maybe even our first kiss!   Just know that as you go through these sometimes rough experiences, there are many others going through the same thing.   As Student Body President, I would encourage each of us to unite together and support each other throughout the year.   My hope is to have each of you feel like you can call CEU your home away from home.
We have an amazing group of student leaders this year.   We are going to do our absolute best to make this year as fun and productive as we can.   There are going to be tons of activities held these first few weeks, and throughout the year.   The best piece of advice I can give you is to GO TO THE ACTIVITES!!!!   If you want to enjoy your college experience then get involved, and keep busy.   I promise that you will have so much more fun if you do.
Always remember that we are here to represent and serve you as the student body.   Don't be afraid to let us know what is on your mind, and what concerns you have so that we can do something about them.   In fact a new email address is being instituted for such requests.   You can reach us at [email protected]
Study hard, work hard, and gosh darn it, have fun!