Two CEU students attend leadership conference at Seattle U.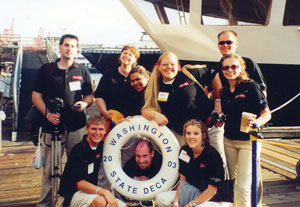 Two College of Eastern Utah students traveled to Seattle, Wash. Aug. 6-8 to represent the College of Eastern Utah's Delta Epsilon Chi (DEX) club chapter at the Western Region Officer Training Camp (WROTC).
WROTC was held at Seattle University in downtown Seattle. Rebecca Coster, DEX vice president and Gypsie Delgado, a member of DEX attended WROTC with approximately 200 other DECA and DEX chapter leaders. The training camp included many activities and keynote speakers. A few of the main attractions during WROTC was a trip to the Space Needle, a Argosy Cruise dinner/dance on the Pacific Northwest, and a trip to Pike's Market Place where they learned about the fish philosophy which is the work ethic they use at Pike's which other businesses are now adopting.
Delta Epsilon Chi is an international organization of college students who prepare for a variety of career areas. The organization is active though out the United States, and Canada in both high school and college levels.
DEX helps to build relationships with the business community, provides both opportunities for members and provides a resource for future professionals that will have careers from marketing, management, entrepreneurial skills and knowledge.
Many of the opportunities of joining you local chapter are opportunities to work with people that share your same interests, the ability to compete in state and national competitions, employment opportunities, leadership opportunities at local, state and international levels, the ability to travel throughout the states and internationally, and meet new people.