65th anniversary celebration hailed by all as great success
Hundreds of people were on campus Saturday to celebrate the College of Eastern Utah's 65th anniversary. They came from both coasts and from Washington in the north to Texas in the south. One woman even came from Norway.
Brad King, vice-president of institutional advancement and auxiliaries, who headed planning for the event, said, "It was probably the most successful activity of this kind we've ever had," and added jokingly, "Of course it's the only activity of this kind that we've ever had."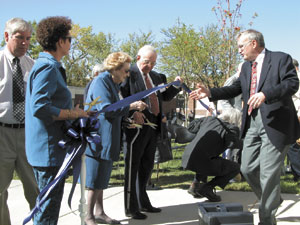 This archived article was written by: C. Josie Luke
Hundreds of people were on campus Saturday to celebrate the College of Eastern Utah's 65th anniversary. They came from both coasts and from Washington in the north to Texas in the south. One woman even came from Norway.
Brad King, vice-president of institutional advancement and auxiliaries, who headed planning for the event, said, "It was probably the most successful activity of this kind we've ever had," and added jokingly, "Of course it's the only activity of this kind that we've ever had."
He continued, "Whatever success there was we owe to a lot of people and we'd like to express our thanks to everybody. It really was a group effort and a group success."
"We bit off what we thought might be more than we could chew, but it ended up being pulled off because of the efforts of the whole campus. There were so many things going on that things could have gone wrong at any time and they just didn't."
Ryan and Ann Thomas agreed that the events went "extremely well" and that the success was due to the efforts of many people. Both felt it was "a fitting celebration of the past history of the college and what we hope for the future."
Dr. Cliff Coppersmith, vice-president of academics, expressed that the celebration was "one of the best experiences I've had since I've been here". He said that he found it an "affirming" and "gratifying" experience as he saw a "whole range of our graduates" and what they had become, from doctors and lawyers to teachers and community leaders. It made him realize the "value of our institution" and the "things we can accomplish".
King said "representation wise" it was also positive. The golf tournament went very well and they believe by the time they finish calculations, they will be able to provide two full-time scholarships to Emery High students. There was also a "great turnout" for the barbecue lunch and both the Jennifer Leavitt. Student Center naming and the GJ Reeves building dedication.
Estimates of numbers on the campus during the day were approximately 300, with numerous volunteers helping to keep events organized; from ASCEU and the child development department providing activities for children to the Ambassadors serving as errand runners and guides
There were more people at the dinner than had been expected and the kitchen had to stop serving at 400, which was the largest group ever served dinner on campus. Ryan Thomas was installed as CEU's ninth president at the dinner and distinguished alumni from each decade were recognized. These included:
•Henry Rachele, Ph.D. of Las Cruses, New Mexico- retired deputy director and chief scientist of the U.S. Army atmospheric science laboratory. His doctorate degree was in electrical engineering and mathematics. He has taught math and physics courses at New Mexico State University, Carbon High and Carbon College. Served as CEU student body president in 1949.
•V. Robert Kelly M.D. of Layton, Utah- 40+ year career as a general practitioner and has delivered over 4,500 babies. Established the North Davis Hospital and Medical Center along with seven other doctors and the Tanner Memorial Clinic that is a multi-specialty clinic with more than 60 doctors.
•Ralph H. Walters of Provo- retired from Mountain Bell Telephone as vice-president general manager switched services where he supervised 3,000 technical employees in Utah, Arizona and New Mexico.
•Patsy Burdick Crawford of Salt Lake City – 30+year career in education including being voted as Teacher of the Year and Woman of the Year by the Delta Kappa Gamma. Her focus was on innovative and practical applications in the classroom.
•Clifford Madsen Ph. D. of Tallahassee, Florida- 40+ years as part of the music faculty at Florida State University where he has long stood as one of the world's prominent teachers and scholars in music education. He is the Robert O. Lawton Distinguished Professor of Music, coordinator of music education/music therapy/contemporary media and teaches music education, music therapy, research and psychology of music.
•Paul A. Dupin of Price – 38-year educator in the Carbon School District's Price Junior High School where he taught English, pre-algebra, physical education, American history, civics and world geography. Coached basketball 35 years, football 25 years and track 38 years plus volunteered as clock keeper for CEU basketball over 25 years.
•Frank Rizzuto, Ph.D., (posthumous) taught electronics, chemistry and math at Pima Community College in Tucson, Arizona was known for being a hard teacher who demanded much from his students.
•Connie Platis Saccomanno of Salt Lake City – co-owner and director of The Winner School, a private preschool, extended care and day school for children ages two through 12. With a degree in early childhood education, she developed the curriculum that supports her philosophy of education.
•Roy A. Nikas of Price – former national debater for CEU, he and his sister Jan own the family business, Price Insurance Agency with offices in Price and SLC. Named Agent of the Year in 1999, he served on Price City Council 10 years, Board of Directors of the Carbon Country Club and was chair for International Days, American Cancer Society and the Greek Festival.
•Miriam Smith, J.D and M.A. – assistant professor at San Francisco State University where she teaches media law, management and ethics. Traveled to Switzerland to conduct seminars in media law and will offer workshops in Indonesia, Germany and the Netherlands in the future. Practiced law in Los Angeles and Utah, focusing on entertainment and sports law issues. Her recent publications span the globe with one titled, "Six Cases that Shaped the Internet in 2001 or the First Thing We Do, Let's Kill All the Lawyers."
•Catherine Bonomo, M.D. of St. George – named as outstanding nontraditional student and forensics student at CEU in late '80s. Started as an EMT in Price before completing her degrees where she has practiced medicine in Utah and California. Besides practicing medicine, she lectures on subjects as sickle cell emergencies to evaluation of AIDS. She recently published an emergency medicine handbook.
•Nannette M. Turcasso Berensen, doctor of pharmacy of Mount Pleasant, South Carolina – associate professor for the department of pharmacy practice at the Medical University of South Carolina. Besides authoring numerous books and articles, she was most recently named outstanding professor of the year and a recipient of the Roche Award in Professional Communication.
•Pam Dupin Bryant, Ph.D. of Tooele – assistant professor of business information systems/extension at Utah State University in Tooele. While at CEU she played basketball, volleyball and served as ASCEU activities vice president. She received the Academic All-American Basketball Award while a student.
•Captain Drew N. Swassey, M.D. of Layton – graduated with his medical degree from Uniformed Services University of Health and Sciences in Bethesda, Maryland in May 2002 and his internship in general surgery at Wright Paterson Medical Group in Dayton, Ohio. He will assume duties with the 34th Fighter Squadron at Hill Air Force Base as a flight surgeon in the next few weeks. He attended CEU on a presidential scholarship.