Eagles split matches at home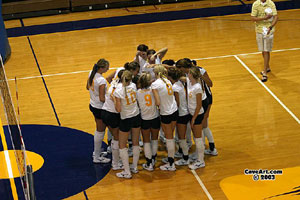 This archived article was written by: Sam McGinnis
All it takes is crowd involvement for the College of Eastern Utah volleyball team to get pumped up and play hard. Two weeks ago, CEU played Dixie State College and Snow College at home in two very exciting matches. Then they traveled to California to participate in the Santa Ana Invitational.
Over the weekend of September 12-13, CEU played Dixie State College and Snow College. Their first match-up was against Dixie, who lost to the Lady Eagles in the SLCC Tournament. Dixie put up a tough match, but it was the excitement from the crowd that gave CEU the extra push to smash the Rebels off the court.
"We felt like we should have beat them the first time we played them, because we knew we could. We just clicked and everything came together this time, and that is why we won," commented Brooke Wilson.
The Lady Eagles won against the Rebels in four games. It was in game two that Dixie stepped up and won their only game of the match. The Lady Eagles pushed hard, but were not able to pull off the win.
The Lady Eagles dominated the first game playing hard and strong, and they came out to win this game 30-23. In the second game, Dixie put up more of a fight making CEU earn all of their points. Both teams played aggressive, but Dixie was able to pull ahead winning the second game 31-29. With such a close second game, the Lady Eagles began to put all of their effort into the last two games. They had already lost against Dixie, and they didn't want to lose again. In game three the final score was 30-25 for the Eagles, and they also won the fourth game 30-28.
Amy Collette led the team with 16 kills and three blocks. This was the team high for both CEU and Dixie. Emily Bowles wasn't too far behind her with nine kills and two blocks. With the help of these two outstanding players, the Lady Eagles were able to walk away from this game with a victory.
After such a contest game, the Eagles had to hit the court again on Saturday against Snow College. This contest, though, wasn't on CEU's side. They lost this match in four games.
"Snow was serving really good, they had 9 aces, and 18 serves that we just weren't able to return. It was as if we were playing catch-up the whole time, because we didn't come out with the same energy as we did against Dixie," Coach Brent Martindale said.
Defense was a little rocky on CEU's side of the court, missing many of the serves, and not returning the ball as strong as they normally do. "We made them look better than they really are," said Martindale.
Game one Snow pulled ahead of the Eagles and won by seven points, the final score for the first game was 23-30. But, in the second game, the Lady Eagles showed some desire to win, ending the game at a score of 33-31. Game three's score was 24-30 for Snow, and 28-30 in the fourth, also for Snow.
Jordan Fox dominated in the number of kills for CEU during the Snow game with 17 kills. Amy Fluckiger only had two errors during this game, and "had a great complete game from start to finish," said Martindale. Amy Collette has also showed improvement. She is a strong hitter, and not many people can stop her.
"I felt as if we (the Lady Eagles) were stronger, it's just that Snow played better. So, we plan to work on hitting errors and defense to see if that could improve our game," commented Marindale.
After a week of practice, CEU traveled to California to compete in the Santa Ana Invitational. Compared with the SLCC Invitational, this tournament is a little easier, said Martindale. Even though this tournament was "a little easier," the Lady Eagles fell in the semi-finals against Cypress Community College.
In the semi-finals game against Cypress, the Lady Eagles were neck and neck with the competition. They both needed to win game four to advance to the finals. After both teams were focused and into the fourth game, the Lady Eagles only trailed by four points. They worked hard and caught up to Cypress. After they caught up, the Eagles started clicking. They were ahead 28-26, only two points away from the Finals, and their momentum literally silenced the crowd.
"After doing so well, it was as if the bottom fell out from underneath us," said Martindale.
Out of the next four plays, only two points away from the Finals, the Lady Eagles made three crucial errors. In the last 30 seconds of that game, the Lady Eagles had a chance to win, but basically "choked," said Martindale. The Lady Eagles served for match point, and wasn't able to win, resulting in Cypress advancing to the Finals.
"It was those three tragic errors that cost us the match. We choked, basically. We had the finals in reach, but I guess after winning 4 games in the day, we weren't too disappointed that we lost. It was a bitter sweet match that we played, and we can learn from it," commented Maritndale.
Jordan Fox had, perhaps, one of the best tournaments of any player in the tournament. She had the season high in match kills, which are 17 kills, and had a 450 hitting percentage. Sandra Sorenson and Emilee Madsen both played exceptionally well during this tournament.
A few players who came off the bench and stepped up their games were Candace Gunnell, who is a reserve setter, Brooke Wilson, reserve right side, and Jen Maestas, who played the whole second half of the day.
"It was a good team effort, and everyone contributed. I am very proud of them and happy for them because they worked really hard," said Maritindale.
This weekend, the Lady Eagles play Southern Idaho on Friday, in Idaho, and SLCC on Saturday, at SLC.