Cactus Flower opens at Geary Theater next week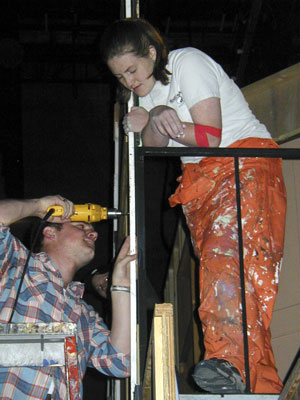 In keeping with the "kinder and gentler Corey Ewan", the Geary Theatre's second play of the season is a romantic comedy titled, Cactus Flower. The perfomances will be in the Geary Theater beginning at 7:30 pm, November 6-9, 11-12.
Ewan calls it a "charming, sweet little piece" in which "everyone lives happily ever after. The play is about a dentist who stays single by telling people that he is married and has three children. His farce works well until he falls in love with a woman and asks her to marry him. The woman then demands to meet the family she is destroying and he is forced to produce a wife and children. He asks his nurse to play the part of his wife and she blossoms like a cactus flower in her new role.
The play was written by Pierre Barillet and Jean Pierre Gredy and produced in 1965, but in this production it will be set in about 1973. The way they are staging it is fairly unique in that they have built a two-story set to take advantage of the area and the music and costumes that they are using.
It is a fairly small cast consisting of about one-half freshmen, but the entire theater department is involved in its staging in one way or another. Ewan said that the cast is "dedicated and hard working and they want to do their best. I've taught at BYU and Utah State and I've been impressed with our actors here."
The cast includes: Kennedy Byrd as Toni Simmons; David Bohnet as Igor Sullivan; Angela Roundy as Stephanie Dickinson; Kay L. Townsend as Mrs. Dixon Durant; Phillip Smith as Dr. Julian Winston; Robert Chelsey as Harvey Greenfield; Jared Kent Rounds as Senior Arturo Sanchez; Harrison Odell as the waiter; Sherri Gillies as Boticelli's Springtime; and Suzanne Eads, Jason Jones, Sam McGinnis, Dianna Halford and Nicholas Dunn as Night Club Revelers. Sound design is by Todd Olsen and set design by Grady McEvoy.
Ewan enthusiastically invited people to attend the performance saying, "The quality of the work that we do would merit coming and it's just fun. The perception of plays is that they are boring, but I think they might be surprised."
The next performance by the theatre will be Measure by Measure, by William Shakespeare which will be directed by Todd Olsen spring semester.