Former student dies in auto-pedestrian accident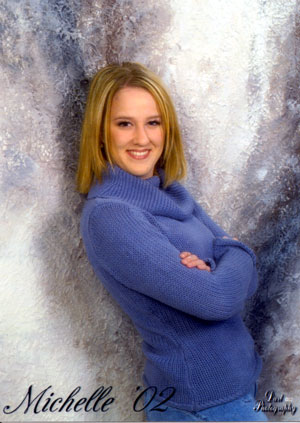 A 20-year-old Price resident who took concurrent enrollment classes at the College of Eastern Utah while a student at Carbon High School was killed in an auto-pedestrian accident in St. George.
Michelle Rich, a sophomore business major at Dixie State College was walking across the street in St. George with a friend when a car hit her on October 9. After being taken to the Dixie Medical Center, she was life-flighted to Utah Valley Medical Center where she died Oct. 14.
ASCEU president Jed Lloyd remembers Michelle as having a great impact on his life. "I can say with no reservations that my life has truly been enriched and blessed because she was in it. I know it has been said many times that she always had a smile on her face, but I'll say it again. She always did! She was a true and loyal friend, and was always concerned about the welfare of others.
"She was particularly close to her family, especially her nieces and nephews. She loved to share stories of them with us whenever we would listen. Her death shook the very foundation of the entire community. That is a tribute to what type of impact she had made in so many people's lives in her short time here. She was loved and cherished in life and will be missed and remembered in passing."
Shauna Railsback saw Michelle's life as one filled with laughter, service learning, friendship and love. She began dancing as a young girl and always drew the crowd to her. She had a way of attracting people and always reached out to those around her. The support of love she showed to her twin sister, Raquel was incredible. Her life and example will live on in our hearts forever.
Michelle enjoyed spending time with her family and friends camping, riding four-wheelers and playing board games. She had a love for music, playing the piano, reading and dancing.
She is survived by her parents Kirt and Donetta (Price), siblings: Mark (Vicky) Rich, Vernal; Ginger (Tony) Ferderber, Perry, Utah; Nancie (Robert) Cave, Price; Dustin (Megan) Rich, Midvale; Nicole (Scott) Railsback, SLC; twin sister Raquel (Stan) Jewkes; grandparents Don and Betty Brown, Vernal.