Local businesses donate free stuff to CEU students showing their 2003-2004 Eagle card
CEU students can now get discounts at 14 local businesses thanks to the CEU Eagle Card and ASCEU's Financial Vice President, Alden Moon.
The businesses that have the official Eagle card sticker in their window are sponsoring the discounts. The businesses include:
• McDonalds- free sandwich with the purchase of a value meal
• Becky's Brews- 10 percent off any purchase
• Price Oil Express- $2 off a full service
• Taco Time- 10 percent off any purchase
• KFC and A&W- 10 percent off any purchase
• Papa Murphy's- free cheesy bread with pizza purchase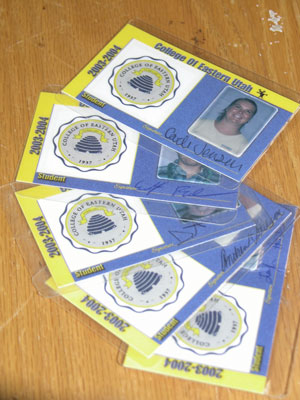 This archived article was written by: Gypsie Delgado
CEU students can now get discounts at 14 local businesses thanks to the CEU Eagle Card and ASCEU's Financial Vice President, Alden Moon.
The businesses that have the official Eagle card sticker in their window are sponsoring the discounts. The businesses include:
• McDonalds- free sandwich with the purchase of a value meal
• Becky's Brews- 10 percent off any purchase
• Price Oil Express- $2 off a full service
• Taco Time- 10 percent off any purchase
• KFC and A&W- 10 percent off any purchase
• Papa Murphy's- free cheesy bread with pizza purchase
• Arby's – Arby melt, small fry, and med drink for $3
• Grako's American C.C.C. – 10 percent off all services and tires of full value
• Pinnacle Sports- $10 off any full-priced footwear
• Taco Bell- free medium drink with any purchase, dining room only
• Sherald's Burger Bar- 10 percent off any purchase
• Velvet Freeze- $1.50 hamburger for 99 cents
• JB's- free sundae bar with meal purchase
• Farlainos- 10 percent discount on any purchase
"Moneyman" Moon will continue to try and get businesses to help sponsor CEU'S Eagle Card, updates will be located on ASCEU's website.
Moon is also in charge of the Student Fee Allocation Committee (SFAC). The committee is in charge of where the student fees go. Members of that committee include Moon, Andy Ingles, Maxwell Acheampan, Romer Ferrer, Eric Stanley, Cladia Myers, Kenneth Bills, Jed Lloyd, Jon Young, Emily Prettyman and Bill Osborn.
Each student is over specified areas of where the money has a possibility of going. They are in charge of investigating and researching where the areas have spent their money throughout the past year. The areas that are being allocated to are: newspaper, police, radio, BDAC, athletics, College Center, College Center operations, Burtenshaw, activities, recreation, intramurals, activity card, SUN Center, Health and Wellness Center, computers, alumni department and all new proposals.
SFAC's purpose is to make sure that the money from student fees is spent wisely. SFAC is looking into new areas to put the money such as the women and men's soccer teams, men's volleyball team and a student daycare center. Anyone interested in asking for funds from student fees can write a proposal and hand it in to Moon in the ASCEU office. Any on-campus person or group can write a proposal to get funds.
SFAC would also like to give special thanks to Raelene Allred for making sure that all the budget printouts have been provided.