Non-trads host successful Halloween Carnival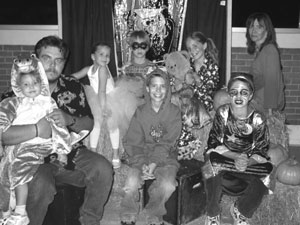 The College of Eastern Utah held its first annual Halloween Carnival for the non-traditional students in the Ballroom on Oct. 29. About 150-200 people attended the carnival. It featured parents and their children dressing up in costume and participating in games and having fun. Each parent or family had to bring a bag of candy for prizes and treats. The games included a duck pond where the children were blindfolded and tried to scoop the duck with their fish net, musical chairs, cake walk, decorating sugar cookies, costume contest, face painting, and the highlight of the night was karaoke.
Non-trad student, Laura Salisbury said, "when I went home and told my children about the Halloween Carnival they were excited to get dressed up one more time. My kids also helped my husband and me get into the Halloween spirit and we even dressed up. It's not everyday I can talk my husband into going out in nothing but his sweet! We had a great time and thrilled about the efforts that are made to help non-traditional students and their families participate in the college's experience. We don't want to be left out just because we are older, thanks for including us and our children."
Breane Ruiz, who helped take pictures for the families, stated," I thought it was great that the Halloween Carnival offer many activities and prizes for the kids."
"It was really a good turn out for the first Halloween Carnival," Ferrer said. "We would like to thank those who helped us with the great success we had, The SUN Center (Kathy Murray), cosmetology students Jessie Jpsom, Jennifer Wade, Amaraa Torgerson, Sheena Mackeehnee, Michelle Carter, the Japanese Club, Marshall Peck, Jamilyn Baum, Susie Martineau and Huruyo Matsugama, Jan Malone and family, Nancy Simpson family, James Prettyman and family and a special thanks to the people who put this activities together: Chris White, Maxwell Acheampan, Jan Malone and Jennifer Jarret.
The next activities for the non-traditional students are the Thanksgiving potluck, held in the new ballroom at 6-8 p.m. on November 19. If your last name starts with A-I bring a salad, J-R bring potatoes, S-Z bring stuffing and don't forget to bring your children. December 5th is game night for the non-traditional students who can get their family in free at the CEU basketball game to support the Eagles.
Non-traditional student chair for ASCEU is Romer Ferrer and the non-traditional multicultural chair, Chris White, both of whom sponsored the event.