Coppersmith takes position at Penn State University special mission campus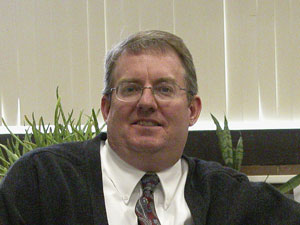 Vice President of Academics Cliff Coppersmith, Ph.D., resigned his position to accept a job at the Pennsylvania College of Technology, a special mission campus of Penn State University.
Coppersmith began working at CEU in 1996 when he received a tenure-track position in the history department. President Ryan Thomas appointed him to his current position in July 2003. He has served as a history and environmental studies instructor for seven years before being named vice president. His committee service included secretary, acting vice president and vice president on the College Senate. He currently directs the CEU School of Outdoor Leadership and Environmental Studies and chaired the Department of Historical and Cultural Studies.
Coppersmith's new position at the Pennsylvania College of Technology will be assistant dean of integrated studies. As assistant dean of integrated studies, he will have broad responsibility for the college's general education offerings including social and behavioral studies and the humanities.
Coppersmith is looking forward to working in a different college system and at a lower level of college administration. Among those differences are the focus at Penn College on technology degrees, the availability of seven bachelor of science degrees and the larger size of the school. Enrollment at Penn College is about 6,000 students. The college also has a unique relationship with the larger system of the Pennsylvania State University. Penn College offers programs with national reputations in automotive technology, aviation, culinary arts, health sciences and graphic arts.
Coppersmith hopes to maintain a personal connection with friends and colleagues at CEU and believes that he will learn some things in this new position that could benefit CEU, in particular the focus on applied technology and the acquisition of technically-based four-year degrees. In many ways, the history of Penn College mirrors that of CEU. Penn College was a community college until 1989, when it became part of the Penn State system. From World War II until the late 1980s, the college heavily focused on vocational and applied technical training. It began as a facility for retraining World War II veterans for entry into the civilian work place.
Looking back over the past eight years, Coppersmith is extremely grateful for the role CEU has played in his personal and professional life. "This was my first full-time college teaching position," relates Coppersmith. He made lifelong friends with students and faculty who made enormous impressions on his life and shaped his development as a teacher. His appointment as an administrator last year, while a surprise, also broadened his professional experience and showed him a side of academic work he had never really considered.
Coppersmith also had the opportunity to work with community leaders and policy makers at the city, county and state level which also provided him a learning opportunity. As Coppersmith observes, "I majored in political science as an undergraduate, but learned more about politics during the last year, especially the local variety."
Coppersmith believes the college is in good hands and will do well in the coming year. President Thomas has an excellent relationship with Richard Kendall, commissioner of the Board of Regents as well as a solid reputation statewide that will help CEU deal with continuing challenges with state funding levels.
He believes Dr. Mike King has long experience with the administrative aspects of the college that will provide the continuity the college needs during this time of change and challenges coming from the state level. He also knows that King brings excellent teaching credentials to his tenure as academic vice president.
Of all the things Coppersmith was involved with during his tenure at CEU, he considers his best accomplishment the continuation of the environmental studies program and the expansion of the program to include a summer river studies program that incorporated courses for science educators and wilderness medicine on the Colorado River in Cataract Canyon. In partnership with the Glen Canyon Institute and River Bound Adventures, a privately run outfitter, he loved taking medical students and elementary and high school science teachers on four-day river trips to show them how to use the outdoors as a classroom and practice basic wilderness medicine in a classic wilderness setting (far away from emergency rooms and trained medical professionals). "I would have never had that opportunity or experience, anywhere but here," he added. This is just one of the many reasons he loves CEU and the places and people associated with the college.