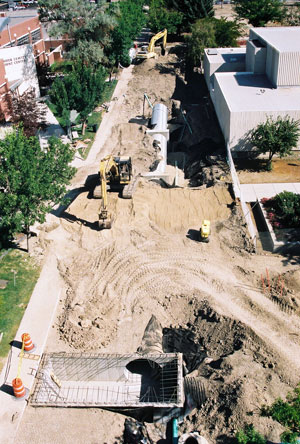 This archived article was written by: Donald McCarty
"I can't get to class with out walking a mile around campus." Not an uncommon complaint on larger campuses, but unheard of on CEU campus, that is until this year.
As the fiscal year for CEU started in July, construction began to replace the utility tunnels that run between the buildings on campus. The old concrete tunnels were collapsing and too small to accommodate the growing number of utilities that use the tunnels. The new tunnels are 7-foot metal tubes with a foot of concrete in the bottom that serves as a flat walkway said a representative from the department of facilities and construction management
Currently there are two separate companies doing work on campus.
Garff construction is in charge of the tunnel project that includes installing the new tunnels, removal of the old tunnels and landscaping the area when it is done. The project is subcontracted to Nelco and is already a little behind schedule. The heavy equipment was supposed to be gone last week, but due to a shortage of steel in the U.S. that did not happen. The tunnels are scheduled to be completed by the end of September and the landscaping for the tunnel area will be done by the end of October. "It's just a mess." said Brad King, Vice President Facilities and Institutional Advancement.
Jacobsen construction won the bid for landscaping the old main building lot on the south side of campus and the old science building lot just south of Aaron Jones hall. The project has been subcontracted to R&R Cook of Price.
The landscaping in the two areas will be done in September. The science building lot will be the new home of the fountain and Gibby, with the possibility of a volleyball or basketball court. The fountain has had a long history of failure due to the pump being in a bad location. The new fountain will have the same look but will be larger and molded out of concrete rather than the original stone construction. The pump will also be in a better location to ensure that it will continue to work.
There has been talk of opening a path somewhere around the library. There are plans for a land bridge to be completed some time in the next two weeks. Until the construction is done students will have to put up with dust, noise and the inconvenience of walking a mile around the campus.
The Eagle is running a poll online at eagle.ceu.edu and in the next issue of the paper to get the student body's opinion on a name for the new green space between A.J. and the Pit.