Preserving a culture for a millennium
College of Eastern Utah faculty opened their academic year by walking back 1,000 years into a culture that most had only read about. They spent one day of their first week of work touring the Wilcox Ranch Creek area that made international news only a few weeks earlier.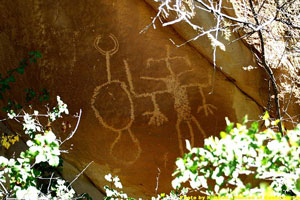 This archived article was written by: Susan A. Polster, Ph.D.
College of Eastern Utah faculty opened their academic year by walking back 1,000 years into a culture that most had only read about. They spent one day of their first week of work touring the Wilcox Ranch Creek area that made international news only a few weeks earlier.
Organized by vice president of academics, Mike King, Ph.D., Dean of Arts and Sciences, Michelle Fleck, Ph.D., and Pam Miller, co-director of CEU's Prehistoric Museum and instructor, the faculty traveled almost 55 miles southeast of campus in the Book Cliffs to see a remote and beautiful valley that 1,000 years ago held a dense cluster of ancient villages and, has remained intact and unchanged.
During the first millennium A.D., the Fremont tribe community built stone-walled houses and wove elegant baskets of grass and willow. Those villages stood, virtually untouched, for almost 1,000 years.   They are so pristine, the Washington Post reports, that the ancient neighborhoods and granaries are still covered with beads, tools and pottery abandoned when the Fremont people left the canyon about 800 years ago.
The Fremont culture was not as advanced as the famous cliff dwellings in Mesa Verde, Colo., or Chaco Canyon, N.M. But the site is richer in many ways for archaeologists because its unsullied state teaches lessons about how the Fremont lived.
According to Kevin Jones, Utah State Archeologist, the valley provided for 200 to 250 people along this creek. The Fremont Indians were extremely efficient farmers and hunters in this rugged, wind-swept valley.  
An estimated 2,000 to 5,000 archaeological sites, most in excellent condition, are located in the 12-mile length of the canyon. It is so remote that there is little of the usual looting and vandalism seen in more accessible sites.
Jones added, "To find something of this scale, this well protected, in this century, is almost unbelievable. And we have not begun to dig yet."
Because the canyon is an "absolute treasure of our national history," Jones said, the stupidest thing we could do is open the gate. But this is public land now, and we owe it to the American public to let them see this fantastic collection of historic sites, so they can appreciate it and learn from it. The problem is how to balance public access with preservation.
Already, dozens of archeologists and students are at work in Range Creek, exploring the canyon for its new sites, and carefully documenting the ones they already have found. Jones explained that several University of Utah students hiked the cliffs this past summer to work in temperatures that hovered at 130 degrees in the rocks. You have to be in great physical condition to even attempt hiking during the summer in this area..
Located between the Tavaputs Plateau and Green River's Desolation Canyon, Range Creek had no road access at all as late as the mid 20th century. A primitive road was built in 1947 to open up the canyon to cattle grazing. A few years later, Waldo Wilcox bought the valley to expand his cattle operation. It did not take long for the new rancher and his family to notice the remote valley held an incredible concentration of ruins, artifacts, intact structures and other evidence that an ancient culture had long ago called home.
Wilcox admitted that all the ruins did not mean much to him, but knew it was a special place. He wanted to make sure his kids and grandkids could see what he had seen so he wanted to protect it. He spent nearly six decades protecting and exploring the 4,000-acre area.
He gated the road in 1951 and let it be known that visitors were not welcome at the ranch. He found everything from mysterious rock art to food-storage structures so well preserved that they still had corn stored in them.
As he grew older, he knew he would not be around to protect his land forever and approached the state of Utah to invite some experts to take a look at his Ranch. What they saw amazed them, and in a complicated transaction, San Francisco-based Trust for Public Lands purchased the hidden valley for $2.5 million.   Then they turned the property over to the BLM who in turn gave primary responsibility for managing the ranch to Utah's Department of Natural Resources and its Division of Wildlife Resources.
When the CEU faculty toured the canyon, they witnessed granaries clinging to the ledges on steep cliffs. On the benches above the year-round creek, lay half dozen separate villages called pit houses. These simple dwellings, dug three or four feet into the ground and then finished with low rock walls and a roof, provided the Fremont culture a snug abode, one that remained cool in the summer and warm in the winter.
Artifacts were scattered everywhere with many of the faculty finding projectile points (arrowheads and dart points) and pieces of pottery (potsherds).   Faculty members did the legal and ethical thing: they put the artifacts back where they found them so the story would remain intact.   The faculty was told the allure was not so much visual as much as scientific. However, most agreed the rock formations and rock arches alone, were will worth the drive.
"The Fremont Indians of Eastern Utah are poorly understood. Range Creek and the Wilcox Ranch provide an unmatched scientific opportunity to shed light on ancient lifeways.   Perhaps we can learn something that will help us manage our water and land better for future generations," Miller concluded.