From a dream to reality, basketball team captain works to achieve lifelong goal
It all started fifteen years ago as a way to stay out of trouble. A pickup game of basketball developed into a lifelong goal to take the game to the top. That is the dream of this year's basketball team captain, Chris Lang.
Lang grew up in Fort Worth, Texas; in an area where many of the youth turned to a life of trouble.
"Life was pretty tough, it was easy to run with the wrong crowd, and it was hard not to run with them. I decided to play basketball to stay out of trouble. I got good and wanted to keep doing it. It got me through school."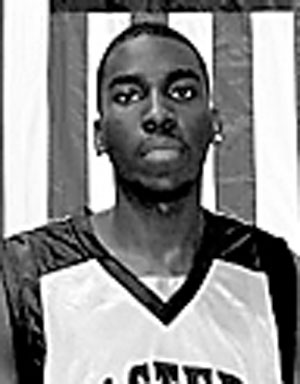 This archived article was written by: Shelly Gledhill
It all started fifteen years ago as a way to stay out of trouble. A pickup game of basketball developed into a lifelong goal to take the game to the top. That is the dream of this year's basketball team captain, Chris Lang.
Lang grew up in Fort Worth, Texas; in an area where many of the youth turned to a life of trouble.
"Life was pretty tough, it was easy to run with the wrong crowd, and it was hard not to run with them. I decided to play basketball to stay out of trouble. I got good and wanted to keep doing it. It got me through school."
After Lang graduated from Diamond Hill High School, he went to play in Oklahoma for a year. He was in the direction of a second college in Texas when a teammate, Leontae Williams, signed with CEU and told Lang that he should join him.
He sent a tape into Coach Bryan Zollinger and the rest is history.
"He's a very unique individual," Zollinger stated. "He's had to experience a little more adversity than most people have. He's a good kid, very kind and he's tried to do well for himself. He's a very strong competitor and he's a guy who understands the game of basketball very well, and he really works hard to try and improve."
This is Lang's second year at CEU and he is the only returning player on the team.
When he graduates this spring, he hopes to continue playing basketball at a Division-One school. From there he wants to go pro, either NBA or overseas.
"I want to get paid someday to play basketball. I've been doing it so long and have put so much time into it, it would be nice to get paid to do it to take care of my family."
His parents were divorced when he was nine and he and his little sister "Mac" continued to live with his mom Edna Bennett.
"My dad [Thomas] has a good heart and taught me a lot of things. He taught me the good and the bad. The way that he raised me, I have a lot of respect for him. When things were tough for him after the divorce, I really like the way he handled everything. He never spoke bad of my mom or anything … he tried to raise us the best way he could and he kept on living. He stayed strong through the bad things and made things seem good, but it wasn't."
Something people may not know about Lang is that he talks a lot and is very polite. Many people may think that he's unapproachable and that he's a quiet guy, but the truth is according to Zollinger, "he really talks a lot."
When he wants to get his mind off of basketball, he'll usually watch TV, play games or listen to music.
His favorite type of music is called "screwed" or "chopped and screwed." They are songs that are slowed down and many from Texas and the southern states listen to it.
Lang is proud that he's still on the right track to accomplish his goal. He's still going at it and he never wants to quit. Although he may get frustrated being away from home and his family, he's still going for it.