Former CEU player wins NCAA dunk contest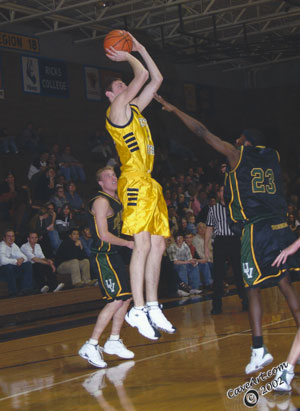 This archived article was written by: Micah Iverson
It's not everyday that you hear about a former CEU player doing something spectacular and catch the attention of the entire sporting world. That changed on the evening of the March 31 when former CEU Golden Eagle Mindaugas Katelynas won the 2005 NCAA dunk contest in St. Louis among the other festivities at the Final Four.
Katalynas, a native of Alytus, Lithuania, played at CEU during 2001-2003, and coincidentally never made an all-SWAC team or received any honor. Nonetheless, the national spotlight was his as he won the contest on a through-the-legs dunk from the right side to steal the contest from Jameel Pugh of Sacramento State. He joined Pugh in the final with a dunk from the free-throw line and after the aforementioned dunk he was awarded the trophy. He scored perfect scores on his last two dunks.
Katelynas is a 6'9″ senior at the University of Tennessee-Chattanooga, and is finished playing collegiatly. He has been invited to pre-NBA draft camps and hopes to take his skills to the next level with a jump to the NBA.