Golden Eagles start rough, keep improving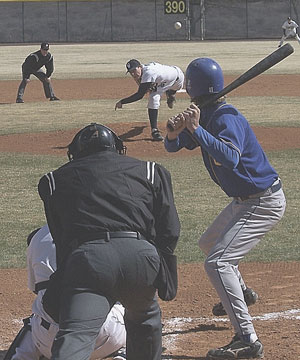 This archived article was written by: Micah Iverson
Baseball. There's nothing like it. Hot summer days along with freshly cut grass combine to accentuate America's pastime. The boys of summer in the major leagues have been at it for a little over a month now within their respective spring training leagues. It is a time to cultivate talent and learn new skills in the sport that has had a big rap of late with looming steroid accusations.
The College of Eastern Utah men's baseball team has been working and perfecting their own skills since the beginning of the academic school year (MLB eat you heart out). Their persistence has paid off at times as they try to remain competitive in what Coach Scott Madsen describes as, "The toughest conference in the nation." The Scenic West Athletic Conference continually has success in the national tournament, winning three national titles in the past four years. This season they have two teams (Dixie State and Community College of Southern Nevada) who are ranked in the top ten.
The Golden Eagles have had their ups and downs this year, losing many by 3-5 runs. Their wins this season have come against CNCC (three times), and one against Salt Lake Community College, Chandler Gilbert Community College, and Miles City Community College. Coach Madsen said that they struggled early on defensively and offensively but lately the team has stepped up and improved. Speaking on hitting, Coach Madsen said, "If we can start hitting, we can compete with anyone." Defensively, strong pitching from Zack Dinkens and Hanson Perkins anchored the staff and kept many games close enough to win.
This past weekend the Golden Eagles were in action versus the Community College of Southern Nevada, who coincidentally came into the season ranked number two.
On April 1, they lost both games 7-1, 4-2. The same two teams met the next day for another double header and Eastern Utah came away with two more defeats, 6-2, 2-0. The games would go pretty much the same, with Eastern Utah coming away with four close defeats. The double header on Friday, the Golden Eagles lost the opening game 7-1. After a brief hiatus they would go at it again. This game went into an extra frame with CCSN coming out with the two-run victory, 4-2. Freshmen Kyle Graham and Riley Gordon both had four strong innings on the mound giving up two earned runs each.
Saturday would turn out much the same with two more close defeats. In the opening game Eastern Utah's Perkins pitched 5.2 strong innings but six errors committed by the Golden Eagles turned into six unearned runs, foiling his outing and the Golden Eagles would lose 6-2. The last game between these two teams for the regular season turned out to be a one-hit shutout win for CCSN's Schofield. The lone hit for the Golden Eagles came from the bat of Preston Hansen.
The Golden Eagles have two games left on their final homestand of the year, and those games will be played this weekend against the defending national champions, Dixie State Rebels. Earlier this year these two teams met, with Dixie State winning all four meetings. The Rebels will come in struggling, winning just three out of their last seven. Games on Friday will begin at one p.m. and Saturday at noon.
Golden Eagle Standings
CCSN 19 – 5
Dixie State 17 – 7
CSI 16 – 7
SLCC 14 – 10
CEU 4 – 19
CNCC 1 – 23