Three years after accident, athlete returns to CEU to play ball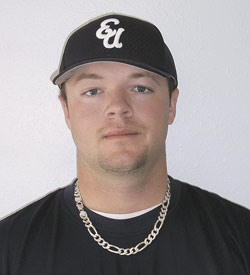 This archived article was written by: Shelly Gledhill
After a crash on his dirt bike his first year at the College of Eastern Utah, it took Zac Dinkins three years of recovery to continue his baseball career.
Dinkins came to CEU on a baseball scholarship the 2000-01 season to be a pitcher. Halfway through the season when racing his dirt bike in the desert, he took a turn for the worse.
He shattered his tibia and fibula in his lower leg and had to have pins and traction put in to his left leg. He spent months in the hospital and had a close call when a fat emboli went to his lungs. He awoke to four doctors peering over him and then rushing him down the hallway to get a CAT scan.
It was a scary moment in Dinkins' life, but everything turned out to be fine and he is making his come back.
It could have only been a two-year break from baseball before he made his come back, but he also dislocated his shoulder in his crash and had to have surgery on it a year ago.
Through all that he went through, he was thankful that the accident affected the left side of his body, especially his left leg, that way he was still able to throw well being a right-handed pitcher.
He started playing baseball in his home town of Green River, Utah when he was just five years old. Green River is a small town in Eastern Utah on I-70 where playing baseball gave him something to do.
He enjoys Price, but can't wait to be at a bigger school. Currently, he is looking at going to Omaha, Nebraska to play for Belleview or up to Orem to play at Utah Valley State College.
Dinkins says he enjoys his team this year. "We have a lot of young kids, but they're good. We don't have the best record, but we have a pretty good baseball team. We stay in the games for the most part and have chances to win, but we just haven't been able to pull it together when we need to."
According to Dinkins, his dad is the person he looks up to most in his life. He says, "He's a really hard worker and if you want something done, he gets it done. He never gives up on anything."
Growing up in a small town was nice because "you always had a friend nearby." He grew up around a farm and still has the chore of cutting and baling the hay when he goes home in the summer.
Besides baseball and his three-year streak at racing his dirt bike, Dinkins enjoys spending time with his family. One thing they enjoy doing as a family is going mule riding. He also enjoys hunting and fishing and hopes to declare a major that will allow him to be in the great outdoors.