"A New Day" opens in theatre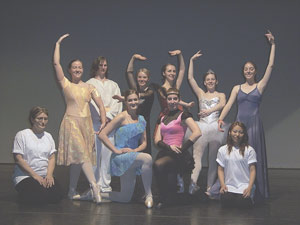 "A New Day" is the theme of the Ballet Repertory Ensemble and the CEU Dance Department's spring concert slated for April 21-23 at 7:30 p.m. in the Geary Theatre.
"We have mixed all dance forms in the show because for dancers to succeed as teachers and performers, they have to be able to do it all and do it correctly," Artistic Director Carolyn Gwyther said.
She chose the theme, "A New Day" in commemoration of the college's new fine arts center slated to begin construction in the next 12 months. "All of the fine arts classes will have a 21st century facility to host concerts, plays, musicals and art. Plus we will have teaching facilities that will allow everyone in the division to have state of the art classrooms, she said.
Jeff Fazzio, who is a guest choreographer and adjunct instructor in the dance department, has taught spring semester at CEU. He has performed in Las Vegas, Los Angeles, Salt Lake City as well as for Carnival Cruise lines. "Jeff is an incredible dancer to watch plus has great choreography skills," Gwyther said.
The concert consists of classical, contemporary and western dances. The Ballet Repertory Ensemble Company members include Angela Curtis, Phryne Elliston, Rachel Jenson, Megan Kulow, Megan Sonntag, Courtney Young, Preston Wood and Nathan Swassey. Jenson is the dance captain and rehearsal assistant.
Guest dancers include Ashley Dyette, Yurika Hori, Kelley Dean, Camie Polster, Bradee Seely, Kristena Scow, Natalee Ewell, Annika Hansen and Melissa Wood.
Prices for the concert are $7 for adults, with seniors and students $5. No children under 6 years allowed.