SUN Center's Christine Olsen: a breath of fresh air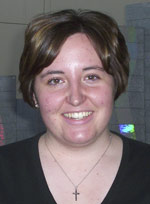 This archived article was written by: Mary Frandsen
Each SUN Center student leader has been spotlighted by its president, Christine Olsen. In her humility, she has failed to recognize the person at the heart of the Sun Center – herself.
A graduate from Carbon High School, Olsen is from Price, and finishing her second year at CEU. She is an English major with an emphasis in literature. As the middle child, she has an older sister, and younger brother who attends CEU. Her role models in life are her mother, and 2 Mother Theresa, a woman everyone feels that she emulates in her actions.
In her spare time, she loves to read, cook, and play soccer. She was even on the first girl's soccer team at Carbon High School.
Her Sun Center involvement began last year as the project leader over Kids at Heart, a program she organized. Kids at Heart is a mentoring program that met each day after school to tutor elementary school children in reading.
From there, she became co-president of the Sun Center her second semester, when the previous president left mid-semester. This year she took on presidency, but without the needed training from the old president, she literally had to teach herself the obligations and responsibilities. On top of the responsibilities of being president, she made time to be a tutor for Spanish speaking children, as well as some of the Spanish students at CEU. This, along with Kids at Heart, has been her favorite projects .The volunteers and leaders this year have greatly benefitted from her leadership. She has been very organized and efficient in accomplishing the many tasks required of her, but yet still finds the mean of making everyone she comes in contact with feel like her top priority. Stasi Barton, a project leader, said of Christine, "She is caring and always makes sure everyone is taken care of." An example of this is how she has made the effort to attend each of the twenty leader's projects at least once.
Kathy Murray, SUN Center director added, "Christine has been a magnificent president. She can always be counted on for her leadership abilities and her kindness and caring. She's a terrific young women who will go far in this life."
As Olsen leaves CEU, she leaves students with this message: "Everyone needs to do service because it takes you outside your box. Try new things because it opens your mind to other people and you learn to think about people other than yourself. Don't be afraid to try something new."
Thank you Christine for your selfless efforts, and your example to us all. Good luck at Utah State next fall. You will be missed by your CEU friends.