Two cosmetology students qualify for national competition
College of Eastern Utah cosmetology students brought home 11 medals on April 1 after two days of competition at the SkillsUSA conference at Salt Lake Community College.
SkillsUSA is a national organization for students preparing for careers in technical and health occupations, formerly known as VICA (the Vocational Industrial Clubs of America.)
Acacia Davis, from Price; took first place in the prepared speech category and Jessica Silver, from North Salt Lake; took first place in nail care. Jessie Ipson, from Vernal; and Caitlin Thomas, from Price; took second place in customer service.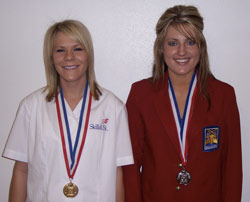 This archived article was written by: Heather Myers
College of Eastern Utah cosmetology students brought home 11 medals on April 1 after two days of competition at the SkillsUSA conference at Salt Lake Community College.
SkillsUSA is a national organization for students preparing for careers in technical and health occupations, formerly known as VICA (the Vocational Industrial Clubs of America.)
Acacia Davis, from Price; took first place in the prepared speech category and Jessica Silver, from North Salt Lake; took first place in nail care. Jessie Ipson, from Vernal; and Caitlin Thomas, from Price; took second place in customer service.
Cynthia Burton, from Altamont; Chanel Giles, from Orangeville; Cassidy Jaramillo, Michelle Bowman, Melanie Pay and Jaclyn Jensen, from Price; and Varinda Verhoveen, from Ogden, all took second place in the opening/closing ceremony category. Davis and Silver will represent CEU at the national SkillsUSA conference in Kansas City, Missouri from June 20 to 25.
According to Davis, SkillsUSA helps the participants come out of theirs shells. "It helps them realize that they are good at something. They come in and they are very nervous and not very sure of themselves and competing gives them some confidence. It also teaches leadership skills, which I think are very important. Followers don't make it very far … so leadership skills take you far."