CEU's research staff gains exuberant coordinator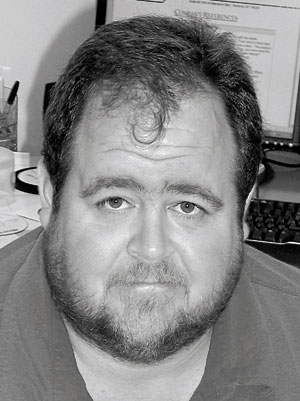 This archived article was written by: Allie Mangum
An email from Jan Young opens the door for Kim Booth to join CEU as institutional research coordinator.
Solemn, bristly-faced Joel Ferguson overlooks Booth from above his desk. Ferguson, a farmer of Maine, is the entity of one of Booth's favorite photographs taken by well-known black-and-white photographer, Kent Miles. This piece has followed him from office to office before finally reaching his office walls at CEU.
"Everybody gets drawn to a specific place," and this photograph has always drawn him. Traveling from state to state to work as system's analyst of insurance company Security Enterprises to computer operator at The Mirage resorts in Las Vegas, Booth feels working in small college atmospheres has been his most fulfilling role.
"I like the people that are here. The staff and faculty that I've met and worked with actually really care about the students and provide a lot of personal time." While Booth is not able to work closely with students, his creativity and technology expertise play an essential role at CEU.
He began his career in higher education at Dixie State College as the assistant registrar. While there, he attended many statewide meetings, where he met CEU staff members, including Jan Young. At Dixie, he played around with the "technology stuff" for the registrar's office and throughout student services.
This led to a position at Redlands Community College in El Reno, Okla. as registrar and director of institutional researching.
It is Booth's responsibility to generate reports that reflect numbers such as the total headcount of students, ages and the numbers at CEU. These are sent to the state, which is responsible for much of the school's funding, as well as to the federal government that is responsible for providing Pell Grants to students. He is responsible for "anything to do with numbers dealing with our students, faculty" and related issues on campus.
Through his research, Booth has begun to diminish some of the "urban myths" associated with why students attend CEU. About 50 percent of freshmen responded to a new student survey; of these, almost 60 percent said CEU was their No. 1 choice for secondary education, casting doubt on the belief that most come here as a last resort. Some of the major reasons were reputable education and personalized service.
Booth and others will soon begin preparing specific grant requests and many of the reports he has generated "will be key" in applying for these, as well as establishing what specific funding the school qualifies for.
Booth received his master's degree, majoring in information systems, through an online program offered by Aspen University of Denver, Colo. The reason he chose this route was to understand the needs of distant education students. "I wanted a degree that would mean something to me."
Near his office door hangs a depiction of beautiful Catalina. Viewing this, Booth reminisces over much time spent exploring that area, scuba diving off the coast of Long Beach. This native of Las Vegas still enjoys spending time in the "great outdoors" with his wife and four daughters. They also spend much time at his wife's family ranch 100 miles south of St. George, Utah on the "Arizona Strip". He often treats his girls to a night on the town with dinner and a movie.
If there is a drawback to having Booth as the "report writer" at CEU, it is that the nature of his duties keeps his amiable demeanor and likable personality hidden behind his office door displayed primarily for his collection of art.