Horse Canyon property donated to CEU Foundation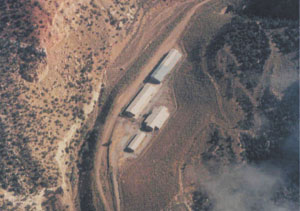 This archived article was written by: Heather Myers
CEU recently received an 896-acre gift. Utah American Energy Inc. donated the land in Horse Canyon for any use the college sees fit.
CEU's Foundation Board voted last Tuesday to accept the land that Utah American Inc. donated. The Foundation Board, which is a board that most colleges have, is made up of community members who work with fundraising, scholarships and activities and accept gifts on behalf of the college for legal reasons.
The land is the site of the, now closed, Geneva coal mine just south of East Carbon. It is 896 acres and includes five acre-feet of water rights and three buildings left over from the mine.
The college does not have any concrete plans for the land but the conditions of the donation say the college can use it for anything it sees fit. The college cannot sell the land for at least two years and they were only given surface rights so there can be no mining says Vice President of Institutional Advancement and Student Serc vices, Brad King.
Much of the land is a mountain side and could be used for recreation. It is an ideal spot for a base camp for environmental studies. It is located close to the Range Creek archaeological site and the San Rafel Swell. The land is ideal for paleontology, geology, archaeology and biology. Art and creative writing could also be considered due to the inspirational landscapes on the land.
The buildings left over from the mine could be of use to the college or to the museum. One of the buildings is an old warehouse that the museum is considering using for assembly of large skeletons.
The coal mine at Horse Canyon opened in 1943 and was operated for years by US Steel, Geneva Steel and, most recently, Utah American who permanently closed it. When Geneva Steel took over operation of the mine in 1943, the coal from the mine went to the Defense Plant Corporation, a government agency. In 1964 US Steel bought the mine from the War Assets Administration but it was still operated by Geneva Steel. It was the primary source of coal for the Geneva Steel plant in Provo.