Spotlight with Meagan and Melissa Webb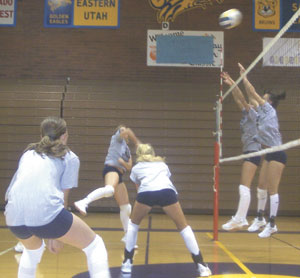 This archived article was written by: Nate Davis
Coach Brent Martindale suggested to interview Meagan and Melissa Webb, sophomores from Idaho. "They are a coach's dream and are likeable, friends with teammates and students alike."
Last week I had the chance to sit down and interview the Webbs.
What do you like to do, besides play volley ball?
Meagan: I would like to spend time with my family.
Melissa: We both like the same things, spend time with our family but also like to make jewelry.
What got you into volleyball?
Meagan: We both just had tall, athletic bodies.
How long have you played?
Melissa: Since seventh grade.
Where are you from?
Melissa: Declo, Idaho.
Meagan: It's a really small town in Idaho.
What made you decide to come to CEU?
Melissa- We got volleyball scholarships. They had a good program here and we liked what it had to offer.
Do you play any other sports?
Meagan: Yeah, in high school we both ran track and played basketball.
What's your family life like?
Melissa- We have a really big family. There are six kids in our family, and we grew up on a dairy farm.
Meagan- We love it, it's awesome.
What kind of music do you like?
Meagan- Probably any kind of music, we're not too picky.
Melissa- I'm not into classical, but anything else.
Do you enjoy reading?
Melissa- Yeah, I love reading, but don't get around to it often.
Meagan- during the summer we read a lot because we don't have school.
What's your favorite movie?
Melissa- "How to Lose a Guy in Ten Days."
Meagan- (laughs) That's what I was going to say.
How do you think that CEU will do this year in volleyball?
Melissa- I think we'll do good, we have a lot of good athletes on our team.
What position do you play?
Meagan- I play middle blocker.
Melissa- I play opposite.
What is your major?
Meagan- Undecided right now, I'm just getting my generals done here.
What are your plans after college?
Melissa- Get married and start a family, I haven't decided if I want to go on and play volleyball.
What is your favorite thing about volleyball?
Meagan- The intensity.
Melissa- I love volleyball, so it's just getting out on the court and doing what I love.
Where did you go to high school?
Meagan- Declo High School.
Melissa-We had a really small high school, we graduated with 73 kids.
Who were your childhood heroes?
Meagan- My dad.
Melissa- My grandma.
Meagan- (laughs) And my grandma.
Melissa- (laughs) And my dad.