CEU library offers gamut of services to patrons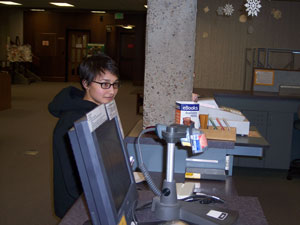 This archived article was written by: Lori Brassaw
The CEU Library would like to welcome back students, faculty and staff for the new semester. We'd like everyone to keep in mind that the library is a great resource for many of your scholarly and personal enrichment needs as well as a great place to hang out and study quietly.
By way of a brief reminder, of course the library has books you can checkout and read. But did you know that we also have free access to the Internet from the library computers for research? The library also has a computer lab for students to use while at the library to type papers and check e-mail. The library provides free access to online subscription databases which contain authoritative scholarly and popular articles and information for your papers and personal research needs. These databases can be accessed from home as well as on campus with a CEU Library card. Please drop by the library for more details and helpful hints on searching the subscription databases.
The library has a wonderful collection of audio/visual materials for cardholders to checkout without a charge. Many faculty, students, staff and community patrons are already taking advantage of this service. Our DVD collection includes recent popular releases as well as documentary, non-fiction and film classics in many genres.
At this time of year, books on self improvement, fitness, money management or goal setting may be of interest. We have a great selection to choose from. A few of the titles we have that are available for checkout include: 8 Weeks to Optimum Health, Fitness for Life, Lifetime of Physical Fitness and Wellness: A Personalized Program, Our Money Ourselves; Redesigning Your Relationship with Money, A Self-Help Guide, Rich Dad's Guide to Becoming Rich Without Cutting Up Your Credit Cards and several other books on many topics of interest.
In addition to hardcopies of books, the library also has nearly 4,000 electronic books that are accessible from your home computer via the Internet once your account is set up.
Remember, the library is here to help and support you with your studies and research needs.