High school art on display at Gallery East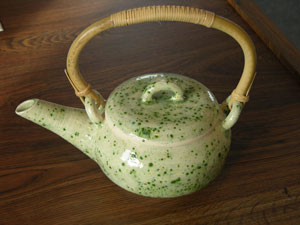 One hundred of the best high school artist's work are on exhibit in the College of Eastern Utah's annual High School Art Show on exhibit throughout January in the Gallery East located on the northwest corner of the old SAC building.
The work of Michael Blake Thornton of the Waterford School in Salt Lake City was named best of show in College of Eastern Utah's second annual high school art competition. He will receive $150 plus a one-year tuition scholarship to CEU.
The first place award went to Amy Henderson from Sky View High School in Logan. She receives $125 plus a tuition scholarship to CEU. Second place went to Samantha Borstadt from Pleasant Grove High School. She receives $100.
Third place went to Andrew Adams, from Timpanogos High School in Orem. He receives $75. Honorable mention went to Sarah Olsen from Grand County High School in Moab. She receives $50. The CEU Bookstore Award went to James Gardner, also from Pleasant Grove High School.
"A lot of credit goes to Cliff Bergera, veteran CEU art instructor for helping to receive the incoming artwork and for many other critical details," acknowledged CEU Gallery East director and art instructor, Robert De Groff. "My two gallery assistants, Derrek Wall and Brittney Salt also deserve mention for their efforts in putting the show up."
"We had 182 entries from 18 schools across the state. Only 97 entries were accepted; 68 two-dimensional pieces and 29 three-dimensional pieces," De Groff said.
"Many people have commented on the high quality of the show. One gallery-attendee asked in disbelief, "these are high-school students?"
"I was particularly impressed with the photography coming out of The Waterford School. Most of the work we received from them showed a good grasp of design, which is not often found in high school-level work," he continued.
The show is very diverse, with everything from jewelry and ceramics to paintings and drawings. The overall quality of the show is very high, but there are two areas De Groff felt was lacking: printmaking and drawing from observation.
"As a printmaker, I was disappointed that there was not a single print among the 182 entries. Also, the vast majority of the paintings and drawings we received relied on photographic sources, rather than being done from life. High school art teachers need to get the message that there is no substitute for the skills learned in drawing from observation. Students who hone good observational drawing skills will do better in whatever artistic field they choose to pursue," De Groff said.
The exhibit is open weekdays from 8:30 a.m. to 5 p.m. with no admission cost. It was made possible by a grant from the Utah Arts Council.