Men's team melts Snow, Dixie and CNCC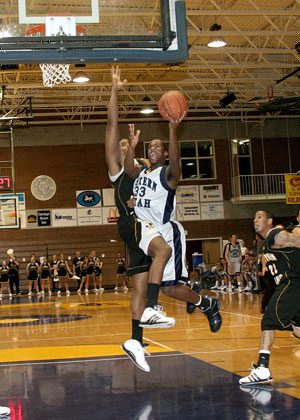 This archived article was written by: Nate Davis
While most of CEU's students were on their holiday break, the men's basketball team stayed in action. Taking on seven opponents including: Dixie State College, Snow College, Salt Lake Community College, The CEU All-Stars, College of Southern Idaho, North Idaho College and Colorado Northwestern Community College.
The Eagles opened the month of December by traveling to St. George to take on the Rebels of Dixie State. CEU easily won the game 92-77. John Rogers led the Eagles in scoring chalking up 19 points.and Tyler Billings led the team in rebounds pulling down seven.
The Golden Eagles then returned home to face off against the Badgers of Snow College on December 8th.Leading the Eagle attack on Snow was sophomore forward Tate Sorenson hitting seven of his nine-field attempts, and easing one in from beyond the arc racking up 15 points in the 24-point victory for the College of Eastern Utah. Another worthy contributor for the Eagles was Belford Williams who grabbed nine rebounds to lead the Eagles; he also threw down 14 points for his team.
The Eagles' next trip found them in the confines of the Salt Lake Community College Bruins. Lead by Tyler Kepkay dropping 17 points, the Eagles put up a grand fight. But, when the smoke cleared away, the Bruins lead by eight at the buzzer.
Returning to the BDAC, the Eagles swept over the CEU All-Star team 144-50. Just as things where looking up for the Eagles, the College of Southern Idaho came into town. Despite Kepkay's attempts, leading his team with a massive 21 points, the Eagles fell to CSI 91-81.
Two nights later, fate didn't turn out so well for the Eagles as the Cardinals of North Idaho College swooped by, defeating the Eagles by a margin of 18 points, in a defeat that Coach Bryan Zollinger described as, "Humiliating," and "The worse we've played in four or five years.
But as is in most sports, teams have their up and their downs, and then they have their ups once again. This held true after a meeting with Coach Zollinger, the Eagles made their way to Rangeley, Colo., last weekend to go head to head with Colorado Northwestern Community College. The Eagles showed no mercy, disgracing the CNCC Spartans 107-85.
As for the rest of the season Coach Zollinger has great confidence in his men saying roughly that they are taking strides in the right direction. Support the men's basketball team today, Jan. 19 and again on the 20, both at 7:30 p.m. in the BDAC as they face off against the Utah All-Stars. They resume season play on Jan. 27 and 28, in Twin Falls, Idaho, for a re-match against the ever dangerous College of Southern Idaho Eagles.