Ancient Paths exhibition at CEU Prehistoric Museum
"Ancient Paths: The Echo of Ancestral Footsteps" is College of Eastern Utah Prehistoric Museum's October through December art exhibit featuring the works of two local women.
The collective works of Arlene Meade Connolly and Iris Howe are on display for the remainder of this semester in the museum's art gallery located on its second floor.
Connolly is a professional artist and English teacher living in Wellington, Utah. A passion for petroglyphs and pictographs led her down an unexpected path that has become something of an obsession.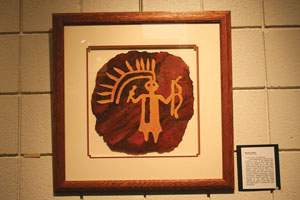 "Ancient Paths: The Echo of Ancestral Footsteps" is College of Eastern Utah Prehistoric Museum's October through December art exhibit featuring the works of two local women.
The collective works of Arlene Meade Connolly and Iris Howe are on display for the remainder of this semester in the museum's art gallery located on its second floor.
Connolly is a professional artist and English teacher living in Wellington, Utah. A passion for petroglyphs and pictographs led her down an unexpected path that has become something of an obsession.
It all started when a college course in speech opened the doors to art as expression. Instead of writing a paper describing her life, ambitions, hopes and dreams, her professor allowed her to paint it.
"That was my first real opportunity to use symbolism to express myself. I got an A and continued to use painting as a form of communication," she said.
While teaching at an alternative high school in Heber City, Utah, she encouraged students to expand their communication skills through art and once again noticed how symbolism played a part.
After a trip to Mesa Verde, she was inspired by the cliff dwellings and the ancient messages left behind. "That did it for me. I realized how precious these messages are. The expression people use about how something is not written in stone takes on a whole new meaning. Here is something that was written in stone! It must be important," she thought.
Her language background and love of reading was expanded to include legends and myths of ancient cultures. The native mythologies, ceremonies and legends all go hand in hand with the petroglyphs and pictographs, Connolly said.
About 15 years ago while camping in Sego Canyon, she explained, a group of teenage boys raced up the road, randomly shooting the rocks at 6:30 a.m. Asked to stop because of the recently restored pictographs, they claimed they were unaware. At that point, educating the public about the Native American wonders left behind became her top priority.
Originally started as a way to preserve the rock art images without bullet holes or graffiti, Connolly expanded her vision to include similarities from around the world.
"There is a common visual language that joins all of us. It is my intent to bring these images alive, and show our universal connections. There are places I have been that are hard to get to. Hopefully, people will appreciate seeing something that may be physically inaccessible for them. Each person that does connect to this work, connects to a message for them.
"Some people cry, some are speechless. There is an intuitive interaction that occurs. It is almost like a light turned on. The light has certainly been turned on for me. When I stand in front of rock art, messages come flooding into me. This is something I don't usually talk about because it sounds so quirky, but once someone else feels it, they know what I am talking about," she said.
Most impressive about Connolly is her passion for her life's work. She gets excited when she talks about the places she has been and how it inspired her to paint. Her optimism is contagious. She appreciates the opportunity to work in this fashion.
She compiled work over the last three years and is ready to show some pieces from the Great Basin, as well as a couple of other series: some horses inspired by a trip into some French caves with art dated at 20,000 years old, and some watercolor landscapes related to the ancient paths where the rock art was originally created.
Her studio walls are full of awards. Her work is displayed in museums, corporate offices and private collections around the world. The 2002 Winter Olympics chose her work to decorate the Olympic Village, allowing athletes of the world to view petroglyphs and pictographs of Utah. She says, her dreams of showing the universal connections seem well within reach.
After a 10-year stretch in abstract landscape painting, Howe took up the challenge to visit an old friend, the potter's wheel. She found a way to express the feeling she has for the desert county of the San Rafael Swell in a medium that is both painterly and three dimensional. Building coil pots and using plates and bowls as a canvas for rock art gives her the artistic fulfillment that she had been seeking.
 While on a long day hike, Howe and her husband Aaron found themselves walking in a wash that was painted with a coat of red clay. The last thing they did that day was to pick up some of those natural clay bowls and take them home to be tested for workability.
She asked herself, whould this clay pass muster as a pot-building medium? It did. Thus, she spent the spring and summer plaing with this gift from Mother Natre and when it is gone, there is no more.
Different clay bodies have always fascinated Howe and she delights in testing and firing to see what each new clay can do for her.
The CEU Prehistoric Museum and the San Rafael Swell have been a source for her inspiration. She uses the museum for view its collections of ancient pots and artifacts. She visits often for an idea or to sketch something she can turn into an artistic rendering through clay and oil on canvas.
The CEU Museum is open Monday-Saturday fron 9 a.m.-5 p.m. and is located 155 East Main