SUN Center Service Spotlight
Laughter rolled and sides ached as I sat down with Heather Gray and Aaron Hales this week. The dynamic duo (and their side-splitting humor) are the SUN Center Leaders in the spotlight this week.
Heather Gray is the SUN Center vice president over activities. Gray comes to CEU from Clinton, Utah, where she got her start in service. "When I was younger my parents made sure that we were always involved in service, and it has just stuck with me." Gray first heard about the SUN Center at her freshman orientation, and when she heard service she came running.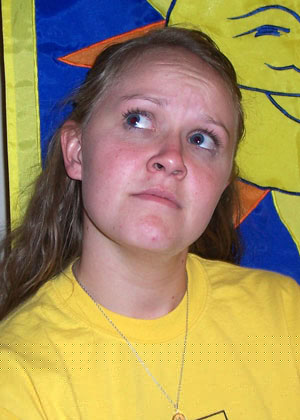 This archived article was written by: Amanda Mair
Laughter rolled and sides ached as I sat down with Heather Gray and Aaron Hales this week. The dynamic duo (and their side-splitting humor) are the SUN Center Leaders in the spotlight this week.
Heather Gray is the SUN Center vice president over activities. Gray comes to CEU from Clinton, Utah, where she got her start in service. "When I was younger my parents made sure that we were always involved in service, and it has just stuck with me." Gray first heard about the SUN Center at her freshman orientation, and when she heard service she came running.
Upon reflecting on SUN Center service, Gray says "What sunshine is to flowers, service and smiles are to me! I love being a part of the SUN Center. When I joined my freshman year I thought that it sounded fun. Not only have I had fun, but I have been so blessed in so many ways from being a part of this wonderful organization."
Gray's hobbies include hanging out with her buddies, playing with her nieces, sports and making a difference. When she leaves here, Gray plans to pursue a career in early childhood and elementary education.
Aaron Hales is the leader over the Children's Justice Center. Hales comes to us from the far-off land of Henderson, Nev. As Hales ponders on his start in service a memory floats to the surface. "It all started when I was seven, and my daddy drug me to our neighbors house to rake her leaves. I got over my initial anger and actually enjoyed what I was doing. I haven't stopped serving since."
Hales decided to join the SUN Center because he thought that the leaders were awesome, and he felt like it would be a good way to get involved with the community. Hales says that "service is like a cell phone. You can't leave it behind. It's also the best way to forget about myself and help others."
When not serving others, Hales enjoys golfing, fishing and CEU. When Hales grows up he wants to be a pharmacist. Upon parting Hales leaves us with his favorite joke. "What is a pirate's favorite restaurant? Arrrby's!"