"How the Other Half Loves"
Opening night for the theater department's production of "How the Other Half Loves" is tonight, November 2. The play starts at 7:30 p.m. at the Geary Theater, and preceding the play there is a pizza party on the front steps of the Geary at 6:30 p.m., sponsored by the music department.
This brilliantly hilarious British farce involves three couples, a love affair and two dinner parties. It takes place in the 1970s, and is bound to bring the audience many laughs.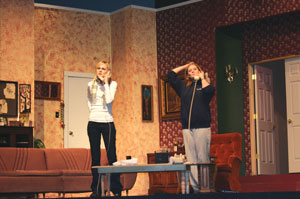 This archived article was written by: Angela Oliver, Zak Konakis
Opening night for the theater department's production of "How the Other Half Loves" is tonight, November 2. The play starts at 7:30 p.m. at the Geary Theater, and preceding the play there is a pizza party on the front steps of the Geary at 6:30 p.m., sponsored by the music department.
This brilliantly hilarious British farce involves three couples, a love affair and two dinner parties. It takes place in the 1970s, and is bound to bring the audience many laughs.
The costumes for the play were put together by Dr. Corey Ewan. All of the costumes are from CEU's theater storage as they were used for previous plays. Ewan stated " the costumes were a lot of fun because they're from the 1970s, there is a lot of polyester, and it will be great because kids these days think it's really hip … but everybody looks really good in their costumes, they look really sharp."
The set is also very interesting and was designed by Grady McEvoy. Theater Major Mike Rohde said, " the set is wonderfully aesthetic. The concept of having two apartments occupying one space adds to the overall comedic presence and farcical quality of this wonderful play."
The next CEU play "How the Other Half Loves" by Alan Ayckbourn is already upon us. The set, prepped and ready for action is standing in wait on the stage and the actors are practiced and ready.
Weary from the long nights in the theatre and strict rehearsal schedules brought on by the new director, Ron Fredereckson, the actors cannot wait until opening night.
"Working with Ron Frederickson has been one unlike any other," says freshman Chandler Durrant who is playing the role of Bob, "Taking the scene back and repeating it countless times in attempt to get right – Ron is definitely a perfectionist when it comes to his plays." This is not a surprise, because the man has a more than impressive track record of over 80 plays under his belt in the 20 plus years he has been involved in theatre.
"Receiving a complement from Ron is an accomplishment," says freshman Erica Halverson who is playing Mary. "It really means something to receive a complement from him [Frederickson]."