Getting buttered up with Darrington "Butta" Hobson
"Goofy, outgoing, funny, nice, great person to be around." That's how Darington Hobson-College of Eastern Utah's Point Guard/Shooting Guard/Small Forward on the Men's Basketball team-wants those reading this article to know him.
Darington has been playing basketball since the age of 12, but that wasn't always his sport of choice. He played football until, " … one day I got hit too hard and realized that it wasn't my sport anymore."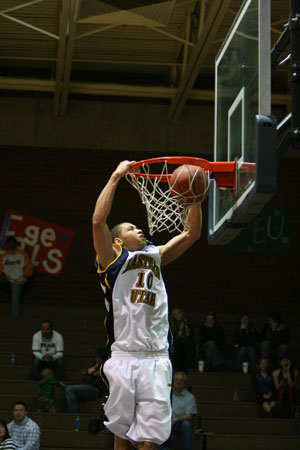 This archived article was written by: Brianna Johnson
"Goofy, outgoing, funny, nice, great person to be around." That's how Darington Hobson-College of Eastern Utah's Point Guard/Shooting Guard/Small Forward on the Men's Basketball team-wants those reading this article to know him.
Darington has been playing basketball since the age of 12, but that wasn't always his sport of choice. He played football until, " … one day I got hit too hard and realized that it wasn't my sport anymore."
His inspiration to play came from the 1993 Eastern Conference Finals between the Chicago Bulls and New York Knicks. "It was the greatest series of all time. Once I watched that, I fell in love with [basketball]."
Darington comes from "Las Vegas, baby!" where he attended Western High School. At the age of 15 Darington moved to Texas with his mom, and finished high school at Gulf Shores Academy. There that he played with team mate Gerald Green, who went on to play in the NBA.
Hobson then went to Decatur Prep. His coach at the time, Alan Huss, is friends with CEU Head Coach Chris Craig. Trusting Huss' word, and the testimonail of his cousin Leon Sutton, a current CEU student and basketball player, he decided to come play for Craig.
After Darington had his first glimpse of Price, however, he momentarily rethought his decision. The exact thought that went through his mind was, "Wow, is this where I'm going to live for the next eight months?" It was a little different at first, but he adjusted and made many friends and had great experiences on campus.
Some of his pastimes include chilling with his teammates, playing X-Box 360, and "listen[ing] to Leon Sutton talk, because everything that comes out of his mouth is funny." Speaking of Darington, Sutton fondly states,
"He will go far in basketball, he's going to make it to the league. We've had our ups and downs, but in all, he's my cousin, I love him to death."
His favorite classes are English 1010 with Carrie Icard, group communication with Pam Cha, and intro to criminal justice with Scott Henrie.
When it comes to food, Darington enjoys eating out at Olive Garden "the #1 place in America", where he orders his favorite main dish, lasagna. Mint ice cream is his favorite dessert. Peanut butter M&M's is his choice for a candy fix. "Hoop Dreams" is his favorite movie, which he enjoys watching when hanging out with friends.
Back home in Vegas, Darington drives a silver Dodge Magnum. His family consists of his dad, his dad's wife, sister, stepbrother, and two pit bulls named Diamond and Killa 187. When asked who his role model is, the response came instantly, "My mom and dad easily."
Darington considers Mt. Zion Christian Academy the hardest team he's ever played against. Since then, he has played against many different teams and in his most recent game against the College of Southern Idaho – 1st in the nation – he scored a grand total of 83 points in two nights.
Taking a trip down memory lane, Darington named the following events as the top three most significant to him; When he passed the ACT, his first phone call from scouts at the University of Texas interested in recruiting him, and when he signed his letter of intent to play at the University of New Mexico.
With his versatility and skill set, the characteristics that set him apart, along with his "will to win", it's no wonder that he and Craig get along so well. Darington proudly states, "He is a great coach, a tough one to play for. He's similar to me. He has the will to win and doesn't like to lose; that's what makes our relationship so close."
Hobson will be graduating in December. "When I leave CEU, I want to leave behind a legacy of being the greatest player ever to step foot on campus," a confident Darington states.
He will then be attending the UNM on a full-basketball scholarship. He will study there for one to two years, then plans to enter the NBA draft.