Kayakers run Price River to Green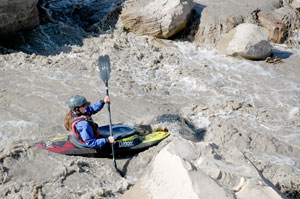 Last Saturday, 12 kayakers made their way down the Price River from Woodside to the confluence with the Green River. The kayakers were CEU students from the river guide and kayaking classes, and CEU Outdoors staff members.
This is the first time this has been done as an organized college group. Just another reason why CEU can be and should be the top outdoor program in the state. We provide opportunities no other institution does, said Steve Christensen, recreation director.
The canyon is very narrow and isolated and is not for beginners. Although there were a few swims, they were minor and there were no significant issues. The river is considered class III, with one class IV rapid. That one class IV can be portaged, but everyone in the group successfully negotiated it. To explain that in a nutshell, class III is intermediate and class IV requires advanced river skills, he added.
The trip was led by Bo Christensen.