PBL students qualify for Georgia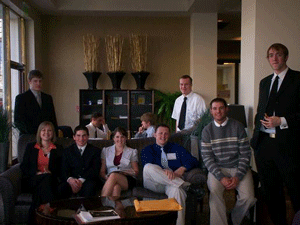 Six College of Eastern Utah PBL students qualified for national competition in Atlanta, Ga., on June 21-24 in sports management and marketing, accounting principles, business communication, business law, contemporary sports issues, financial concepts and network design. A student had to place first or second in their respective category to qualify for nationals.
Jacie Fasselin placed first in business law with John Fazzio placing fourth. Fasselin also placed second in financial concepts and fifth in microeconomics.
Other first-place finishers for CEU included Kevin Howard and Jeremy Henderson in network design.
Representing CEU in sports management was Randon Kerr placing second and Trevor Wood placing seventh. In accounting principles, Justin Stout placed second, Fazzio third and Alison Evans sixth. Evans also placed eighth in microeconomics.
In business communication Stout placed second. Wood placed second in contemporary sports issues with Anton Lueken placing third.
Other top scorers included Fazzio placing third in accounting analysis and decision making, Howard placing fourth in cyber security and Fasselin placing fifth in impromptu.
Evans placed fourth in macroeconomics, Fazzio placed seventh and Kerr eighth; Andrew Barrus, Kerr and Henderson placed third in marketing concepts; Curtis Hancock, Lara Harris and Wood placed fourth in marketing concepts.
The state competition was held at the Ogden Eccles Conference Center on April 2-3 and pitted CEU students against Weber State University, Utah Valley State College, Utah State University, Dixie, Snow and Snow Richfield, and Southern Utah University. The PBL program is under the direction of Henning Olsen, Ed.D., and Ron Vogel.