Michael LaVar Loveless
A special friend, father, father figure, husband, grandfather and mentor lost his life in a tragic accident in Colorado two weeks ago.
Michael LaVar Loveless was born in Provo on Oct. 22, 1957. The son of LaVar and Kathryn Loveless, he married Colleen Grange on June 15, 1979. Together they had two children, Spencer and Mikaleen.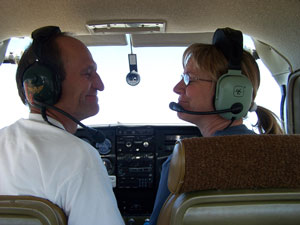 This archived article was written by: David Osborne, Mae Goss
A special friend, father, father figure, husband, grandfather and mentor lost his life in a tragic accident in Colorado two weeks ago.
Michael LaVar Loveless was born in Provo on Oct. 22, 1957. The son of LaVar and Kathryn Loveless, he married Colleen Grange on June 15, 1979. Together they had two children, Spencer and Mikaleen.
Loveless left this world on Nov. 11 when his plane went down near Vail, Colo. He will be remembered as one of the great men of our time. He will be sorely missed. The day that his death was confirmed, four pages of lined paper went around the campus of the College of Eastern Utah and students were allowed to write their thoughts of this great man. These words are straight from those who held his friendship so close to their hearts.
He lived life by the motto: "Life is good." He would be constantly asking the students, "Hey guys, do you have a date this weekend? Did you go on a date?" This always made the students remember that, not only were they students, but they were like family to him. He cared for them like they were his own children and he always looked out for their well-being.
"Life is good." And it truly is. Loveless always lived life to the fullest and encouraged everyone he knew to do likewise. He had a powerful love for everyone he knew, didn't know, and would soon meet. A student made the comment, "Bishop always cared for everyone no matter who you were, what you did, or where you lived."
Along with being the bishop of the college's second ward, he was more than a bishop to everyone. He was a true friend, through and through. One student said, "Mike Loveless was just more than my bishop and boss. He was like my dad away from home. From constantly fixing my car, to meals at his home and calling me when I was sick, it didn't matter. He was always there for me. Thank you for being an amazing person and friend. I love you and you will always be in our hearts."
Mike was selfless, kind, funny, adventurous and always saw the best in everyone he met. "I will forever be a better person," said another student, "for associating with this spiritual giant. Amidst his busy and trying life, he always had time for me and cared about my trials and worries. He has lifted me up and strengthened me. I love him with all my heart."
He led a great example for everyone to follow. He loved much and played hard. He took care of anyone who needed it and loved them as he would his own children. He was the perfect example. Him and his wife had a relationship we will always look to and admire.
He was always smiling and positive about life. There was a sort of fun-loving, people-loving atmosphere around him that was contagious. You could recognize his laugh anywhere.
It would be fitting and proper to end with a final quote from another student, "There are not enough adequate words to tell about the greatness of this one man. He will truly be missed. We love you Bishop Loveless."