Smurf Turf: Earth to Craig Thompson
Anybody catch the Utah-TCU game a few weeks back? Or how about Utah's amazing comeback against Oregon State? Or the time BYU romped on UCLA?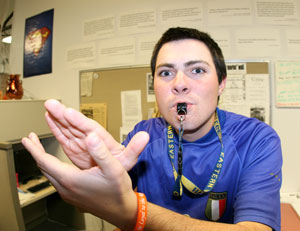 This archived article was written by: K.C. Smurthwaite
Anybody catch the Utah-TCU game a few weeks back? Or how about Utah's amazing comeback against Oregon State? Or the time BYU romped on UCLA?
Actually I lied, I didn't either. Since Mountain West's inception in 1999, it has grown into a strong conference in all of their athletics. Mountain West commissioner Craig Thompson orchestrated a bunch of schools into a BCS bustin' conference in every major sport. Up until Aug. 26, 2004, he was doing a fine job. On Aug. 26, some might say Craig Thompson sold his soul to the devil. He signed a deal with College Sports Television ( CSTV ) and rejected ESPN's coverage offer.
Granted, CSTV offered 34 million more reasons to take their offer over sports giant ESPN. Since that summer day in August, "the mountain" was formed, which is a sports station solely dedicated to Mountain West Sports. The mountain, full of terrible commentators, C-level shows and biased commentating, is starting to get overrated. Not to mention CSTV was bought out and sold rights multiple times since 2004, which has made it so fans could not view their beloved teams. As of now, a handful of Mountain West markets have limited coverage of their own team, and one market has ZERO coverage.
The Mountain West has tried to improve broadcasting to their fans, but a deal struck by Thompson back in 2004 is dooming them. The Mountain is only available in eight states currently, unless you want to ink a hefty contract with a satellite company. Fans of the Mountain West are getting "screwed," they can't watch their team.
To the graduates living across the nation who have to wait to watch the highlights of their team's game until after it is over, thank Thompson. We all missed the dramatic finishes of Mountain West football games this year, and will continue to do so until he gets the message. Actually, he is all ready. He has multiple websites, including firecraigthompson.com, calling for his head. Oh, and many fans and athletic directors agree. Sure he brought in 30+ million dollars, but he has 80 percent of Mountain West fans wanting to give him a pink slip.
So Mr. Thompson, let's try to define your commissioner legacy in the Mountain West. Thompson says he wants to compete with the PAC-10, and won't until he makes a move. What is that move? Swallow your pride, Thompson, and invite Fresno State, Nevada and Boise State to the Mountain West. Enter these schools and you get Boise State, who is the second best (by winning percentage) college football team in the nation since 2000, and a basketball team who is the defending WAC champs.
What else does it give you? Fresno State, who year in and year out is not afraid of any big time team and just won the 2008 College Baseball World Series. Then you have Nevada, who is continuously one of the most competitive college basketball teams in the nation and a few seasons ago broke the Top Ten. That will rival the PAC-10. "A few weeks ago Thompson stated that Boise State would not go 12-0, in our conference." Ahem, Mr. Thompson, they may not go undefeated but they sure will win 10 games year in and year out. Your precious BYU Cougars SHOULD have lost to the nation's worst college football team: Washington.
Mr. Thompson, by inviting Boise State, you will improve your fan base dramatically. They are the No. 1 bandwagon team in the nation and are ESPN darlings. Oh, and you wonder why you don't get any respect from national pollsters? Remember you sold your rights to CSTV so nobody can see your games, bud. Also, by adding those three teams you get a 12-team conference, which adds to the rivalry mix with Fresno St.-San Diego St, Nevada-UNLV and Boise State-BYU. Mr. Thompson, step up your game and expand the Mountain West. But don't be surprised if they deny your request because you might be the downfall of the Mountain West, if you already aren't now.