USU-CEU chancellor brings experience to job
With a new school year in action, more students and classes, much more is new at Utah State University-College of Eastern Utah.
Joe Peterson, the new chancellor for USU-CEU, already has plans in place for the school. Many students and instructors wondered what this merger would do for the school and Peterson is there to set their minds to rest.
From being an English professor, a dean for seven years, and the vice president of academics at Dixie State, to being the vice president for three years at Salt Lake Community College, Peterson is suitably fitted for his new role as chancellor.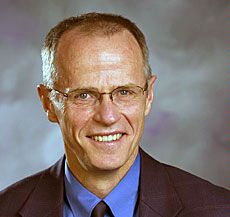 This archived article was written by: Mae Goss
With a new school year in action, more students and classes, much more is new at Utah State University-College of Eastern Utah.
Joe Peterson, the new chancellor for USU-CEU, already has plans in place for the school. Many students and instructors wondered what this merger would do for the school and Peterson is there to set their minds to rest.
From being an English professor, a dean for seven years, and the vice president of academics at Dixie State, to being the vice president for three years at Salt Lake Community College, Peterson is suitably fitted for his new role as chancellor.
He was prepared to take on this newly merged college because, while he was at Dixie State, they changed to "four-year" status and so he has had experience in expansion of the two-year mission.
Peterson's father, Charles Peterson used to work for both USU and CEU. Peterson said, "He loves the school. Anyone who come here loves the school."
Will there be much of a visual change with this transition or is it more administrative? Peterson said a "smoother transition will be seen," as well at the education programs excelling. He stated he hopes for less of a dropout rate and to make it more convenient for adults to return to college. He also hopes for a higher rate of degree completion.
He said, "Southeastern Utah's degree completion rate is half of what it should be. Right now one-eighth of Southeast Utah's adults have a four-year degree or higher" and the rest of Utah is around one-fourth, "Hopefully in ten years, we'll see an increased completion rate."
Because of the merger, many are asking if there will be academic programs from USU brought to Price for the students attending here. Peterson said, "Most definitely . . . There will be an expanded menu of opportunities."
When first arriving on the USU-CEU campus July 1st, Peterson's first plan for the school was to promote economic growth and development. USU will be able to help out with this is by engaging all the university partners.
Peterson also wants to set goals. He stated, "Before climbing the ladder of success, you need to decide what wall you're going to put it on." He said what he was doing is helping to decide where to position the ladders.
Along with being the chancellor, Peterson enjoys making pottery and is enrolled in one of the school's classes. "My brothers and sisters are all sick and tired of [getting] pots," Peterson said.
He said the best part of his job was seeing students. "There's this window of time that students are in when they make life's important decisions, such as what profession they'll pursue and what sort of family they'll create, and this is such an honor and a privilege. Not everyone gets to do this . . . I care and I also like them. They're fun to know."