Eagles see victory, go 2-4 in play
The lady Eagles end up 2-4 over the Christmas break and into the New Year. The Eagles opened their first region game with a "W" at Colorado Northwestern in Rangely, Co., and tough completion from Snow College, Salt Lake community College at home and a long road trip to North Idaho and Southern Idaho.
On Dec. 11, the Eagles achieved their first region win. Coach Dave Paur said, "The team was disciplined, they executed their offense and defense." The first half began with the Eagle tip off and strong dose of defense. By halftime, the Eagles led 34-25 over the Spartans.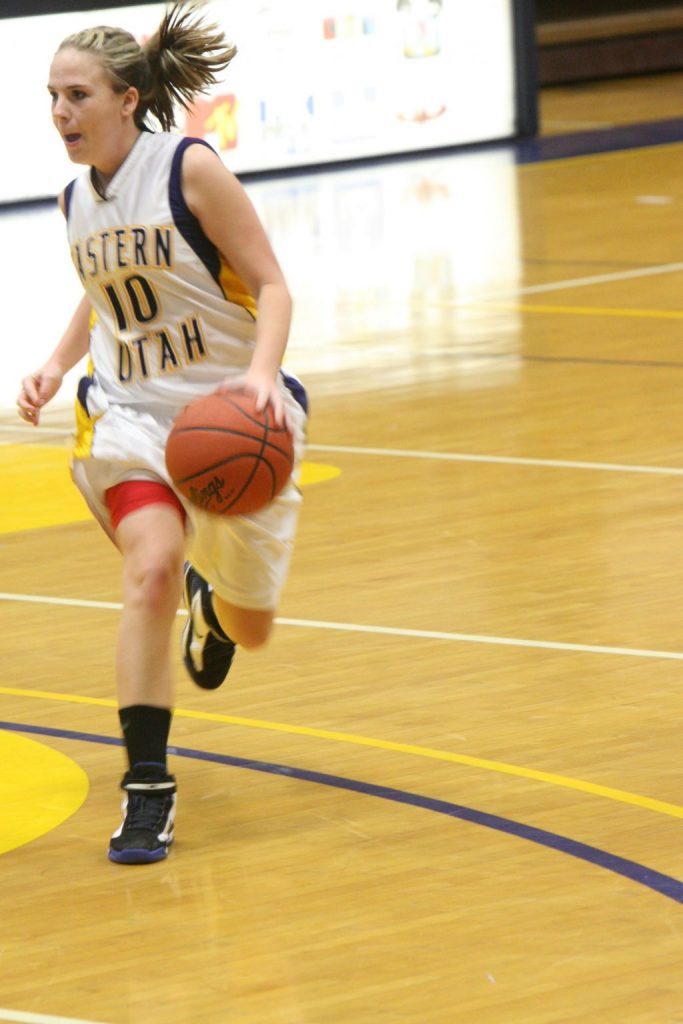 This archived article was written by: Katie James
The lady Eagles end up 2-4 over the Christmas break and into the New Year. The Eagles opened their first region game with a "W" at Colorado Northwestern in Rangely, Co., and tough completion from Snow College, Salt Lake community College at home and a long road trip to North Idaho and Southern Idaho.
On Dec. 11, the Eagles achieved their first region win. Coach Dave Paur said, "The team was disciplined, they executed their offense and defense." The first half began with the Eagle tip off and strong dose of defense. By halftime, the Eagles led 34-25 over the Spartans.
Coming back, the Spartans attempted to make a run on the Eagles. The average 12-point lead came close with the Spartans trailing by six. Paur called a time out and gave strong encouragement to the women. The Eagles stepped back on the court and executed a solid finish. The game ended with an Eagle victory, 69-46.
"Colorado is a three-point shooting team. They averaged seven threes a game and we held them to one, maybe two. We also shot 42% that game," said Paur. Priscila Santos scored 27 points, with Bruna Deichmann producing 12. Christin Figgins contributed 10 points. Daiana Ferreria had two blocks for the Eagles.
Jumping into January the Eagles took on Snow College Jan. 7. The Eagles held sturdy keeping Snow within a good three points going into the second half. CEU lagged with Snow 29-26. The ladies seemed to lack their usual energy. Snow slipped ahead triumphant ending the game 62-50.
"The defense of the team was fair, but our offense was horrible. We could not hit a shot. Our goal was no threes for Snow, but they had seven," said Paur, who "Did not get done what we wanted. We shot 31% to their 46%." Again Deichmann come forward with 20 points and Santos 12. These two ladies have been solid scorers for the Eagles. CEU offensively out rebounded the Badgers 18-12. Team captain Maddi Hind said, "We had an opportunity to beat them. Snow averages 80 points a game and we held them to 62. That's how strong our defense is. Not everything goes our way, but we need to push through and score more".
After a tough loss to Snow, the Eagles kindled their fire and started strong against Salt Lake Bruins. Coach Paur said, "Best game played here at College of Eastern Utah in years." Salt Lake is a top- ranked team and No. 1 in the region. He was pleased with his team's playing, "Defense was excellent, best efforts made."
Within the first 10 minutes, the Eagles had a strong lead, 21-6. Not even allowing the Bruins into double digits until 5:59 left in the first half. Not breaking down or giving in for a moment, the Eagles entered the halftime break with 42-18. Showing no mercy to the Salt Lake team, the Eagles continued to score and put up a strong battle against the Bruins, despite the many fouls. "We gave up 36 foul shots, but our scoring was excellent," said Paur. After a power play and strong attack by the Eagles, a victory was awarded to CEU 79-62. Hind said, "It was so nice to win, because it showed what we are capable of beating anyone in our league." All members of the team contributed well. Deichmann said, "I felt relief beating Salt Lake. We played really well all together."
Santos added 26 points with Deichmann's 13. Ferreria had three blocks. The team kept their turnovers to 12 while Salt Lake had 27. Eagles also grabbed a solid 13 steals. The potential of the Eagles is great. "Again, best game in years, here. Salt Lakes only loss came from us," said Paur.
Going into the North Idaho game, the Eagles knew they were facing tough competition. "We traveled 17-18 hours on bus, with blizzard conditions most of the way," said Paur. The Cardinals came out resilient to the Eagle's defense. "They have the same team they took to the nationals last year." They pulled ahead early, with a 40-20 lead. Cardinals continued the strong lead with a final score, 80-52. Paur said, "The game was disastrous, could not execute well at all on defense. We were beat soundly despite coming off a win from Salt Lake." Captain Figgins said, "Salt Lake and the road trip took a lot out of us, but that's not an excuse. We should have played better." Leading scores Deichmann and Santos added 21 and 15 points. Paur said, "We can beat anyone in this league, but anyone can beat us."
After a rough game in the North, the Eagles traveled down to Twin Falls, Idaho, to play the College of Southern Idaho. "The CSI game was very disappointing. We took a 13-hour trip from the North," said Paur. Both sides battled back and forth for the lead. "In the first half I thought we had a good position to win."
Eastern Eagles came out strong pulling ahead in the first few minutes giving them a strong lead. But as the half continued, the CSI Eagles closed the gap and pulled ahead by six at halftime,31-25. "The second half went downhill. We did not shoot, and they had their best second half all year," said Paur. Deichmann added, "We didn't play together or with the same passion as we did in the Salt Lake game. We need to use the Salt Lake game as our model and play like that all the time." The final score was CSI Eagles 84-49. Deichmann had 16 with Santos behind her with 14 points.
Offensive coordinator Adjalma Becheli, Coach Vando said, "We have improved a lot, especially on our sense of spacing on the court. We understand how our offense works and are able to fill positions better. The girls are putting more trust in each other and learning one another's rhythm. It was confirmed in our victory over Salt Lake. Everyone knows their roles".
In the upcoming games, CEU will start the same cycle and play another round of region games. They will play CNCC at home this Friday at 5 p.m. Figgins said, "I think we have to win this game. It might be easy or very hard, but either way we have to put for the effort," Vando said, "These upcoming games are going to be hard. Every team will study us and prepare to play us. We must focus hard, and not give up. If we are tough and stay on task, we are going to have success."