Prichard selected Outstanding Woman of SE Utah
Debbie Prichard, USU Eastern cosmetology associate professor, was announced as Southeastern Utah's 2011 Outstanding Woman at the 32nd annual Women's Conference Friday in the Jennifer Leavitt Student Center .
"As I was listening to everything she [Dolores Roberts] was saying, I thought wow this lady does a lot of stuff," said Prichard. "I was also thinking, if any of you have ever done any of this stuff, you know that this doesn't happen [without help], one person doesn't do this."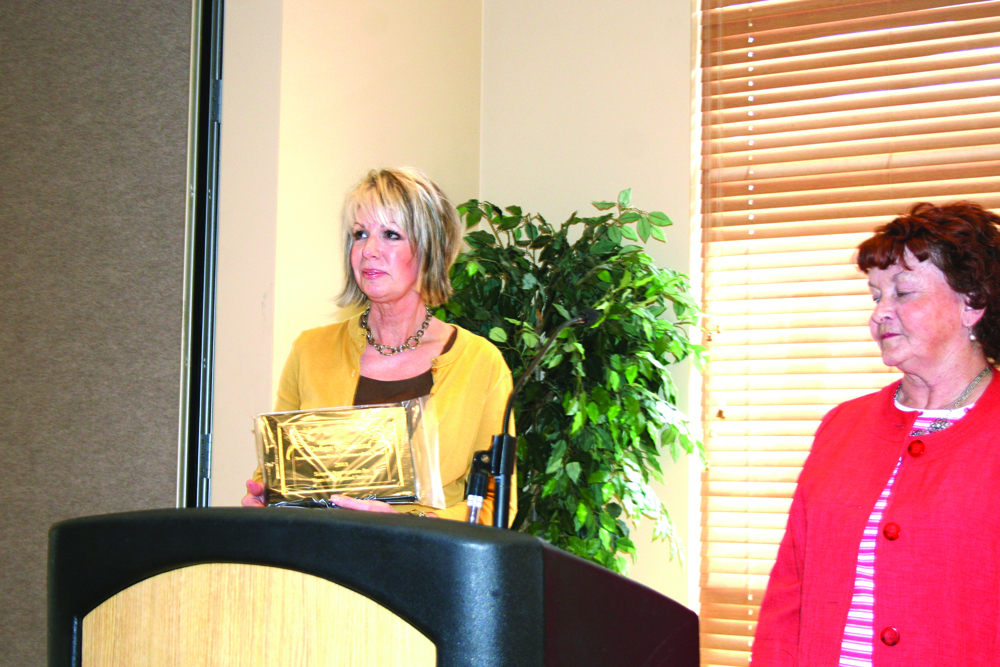 This archived article was written by: Jasmine Tidwell
Debbie Prichard, USU Eastern cosmetology associate professor, was announced as Southeastern Utah's 2011 Outstanding Woman at the 32nd annual Women's Conference Friday in the Jennifer Leavitt Student Center .
"As I was listening to everything she [Dolores Roberts] was saying, I thought wow this lady does a lot of stuff," said Prichard. "I was also thinking, if any of you have ever done any of this stuff, you know that this doesn't happen [without help], one person doesn't do this."
Prichard's focus has always been on service whether at church, at work or in the community; her concern for others comes first.
Prichard volunteers for church functions as well as decorating her church for holidays. Weekly she has taught religious classes for kindergarten-age children. She ministers at services regularly.
As a member of the Life Line committee (pro life), funds were raised to buy pregnancy tests, diapers, baby clothes, etc. to help with life choices made by individuals.
She is continually baking and cooking for the area shut-ins who cannot get out of their homes for medical and physical reasons. If anyone is hurting or in need, Prichard is there with a call, card, food or a "treat." She never asks to help, but is always the first one there to lend her hand.
Prichard is deeply involved with the "Look Good, Feel Better" cancer program. With her assistance, help is given to patients with make-up and applications, shaving heads, buying wigs, spa services and encouragement. Twice a year a wig fundraiser is held so wigs can be purchased for women who cannot afford one at a time in their lives when "looking better" is so important to their recovery.
Another fundraiser is the annual "Locks of Love" event where almost 1,000 inches of hair is cut from clients and donated to a company who makes wigs for those who have medical problems that led to their loss of hair. Every year, Prichard committees this Locks of Love event that includes a silent auction to raise additional funds, provides food, has before and after photographs taken of the participants and offers makeovers for those who shed at least nine inches of hair for the event.
She is not a stranger to Carbon County's Relay for Life. She has been involved for years organizing teams, providing spa services, etc. for the participants. She has a monetary goal every year she tries to reach to help fund cancer research.
The welfare and education of her students is her primary concern. Many hours are spent preparing and organizing the annual Spring Festival, a two-day community prom, bridal and special event used to raise scholarship funds for USU-Eastern students. Carbon and Emery county businesses participate in this fund-raising event.
While serving as the cosmetology department chair, she started a barbering program and nail program, which has served the college and area well. She has also taught Love and Logics classes for parents in the area.
Prichard set up hair cut days where all the proceeds help fund the various clubs and sports on the USU-CEU campus. She has her program offer free haircut days to help students who do not have the funds to have their hair trimmed without cost.
The Castle Valley Center uses Prichard's expertise to have her students provide prom hairstyles, make-up and manicures to prepare for the coveted Castle Valley "Prom Dance" each year.
She most recently provided the "Lighthouse" students with a spa day to help their self-esteem. She continues to offer classes at churches and schools to help make people feel and look good.
The senior care centers in the area do not go unnoticed, as Prichard makes sure their residents get a manicure. The USU-Eastern theater department uses Prichard's expertise to style the actor's hair and makeup to fit the period the play is portraying.
She was chairwoman of the Utah State Vocational workshops and the Utah State SkillsUSA conferences. Many students were trained under her and won state and national SkillsUSA competitions.
Prichard has served USU-Eastern on various committees including her most recent: outstanding student awards, women's conference, SUN Center, tenure and sabbatical, hiring committees, semester conversion, faculty review, satisfactory progress appeals, accreditation and Bread 'n' Soup Nights.