College celebrates beloved coach's life at memorial services in Ogden, Price
Editor's note: Davis served as sports editor of CEU Eagle newspaper and wrote this piece for the WSU Signpost.
More than 300 people gathered to remember former Weber State University basketball player Brad Barton at the Dee Event's Center on Oct. 8. Some were wearing suits; others were in basketball jerseys of some of Barton's favorite players.
Barton, 31, died in his apartment in Price, Utah, where he was the head coach of USU Eastern. While the cause of death has yet to be confirmed, it is thought to be related to diabetes, which Barton battled for more than half of his life.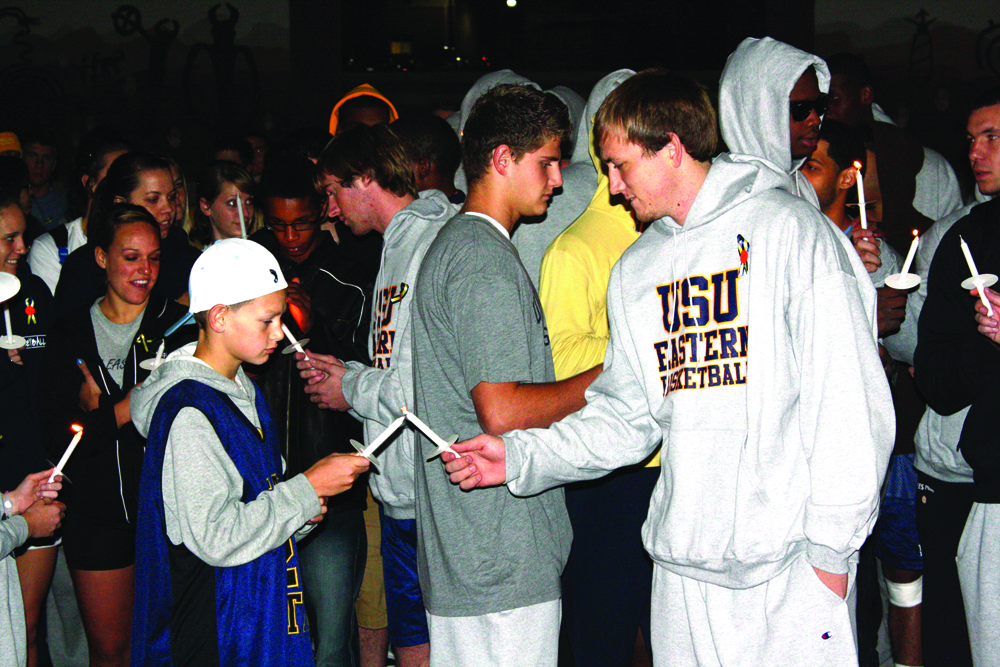 This archived article was written by: Nate Davis/Jasmine Petit
Editor's note: Davis served as sports editor of CEU Eagle newspaper and wrote this piece for the WSU Signpost.
More than 300 people gathered to remember former Weber State University basketball player Brad Barton at the Dee Event's Center on Oct. 8. Some were wearing suits; others were in basketball jerseys of some of Barton's favorite players.
Barton, 31, died in his apartment in Price, Utah, where he was the head coach of USU Eastern. While the cause of death has yet to be confirmed, it is thought to be related to diabetes, which Barton battled for more than half of his life.
Bret, Barton's brother, said Barton did so much in his life, and lived so fully that, while he was 31, he lived the life of someone much older.
"To me, it's a remarkable honor to remember the life of my little brother," Bret Barton said. "Brad was 31, but we decided as a family that because of the way he lived . . . and the fact that he got by with much less sleep than anybody, he's actually 62 years old in 'Brad years.'"
Over the course of the nearly two-hour funeral service, speakers told stories that related Barton's work ethic and character. Chris Craig, who was the head coach when Barton was hired as an assistant coach at USU Eastern, talked about his strong character and his competitive edge, relating an experience he had with Barton while playing tennis.
"I think he was up 5-1, 40-love," Craig said. "The first time I finally hit a serve that was down the line, he dove off the ground, Superman. Knees and elbows were bloody, diving to the other side of the court. He gets up, bleeding, and I said, 'Do you know the score?' He stood up and said, 'That point mattered.'"
Craig said that it wasn't until after their game that he fully digested what Barton had said. He realized how that moment defined Barton. He said that, many times, people's words and actions aren't the same, but that wasn't the case with Barton.
"His actions backed up every single word that came out of his mouth," Craig said, "and I think that is something to be admired."
USU Eastern Athletic Director Dave Paur said he would often spend time talking about historical leaders with Barton and trying to figure out how to relate that to coaching. Paur said that Barton was able to implement some of his love of history into his coaching.
"I'll tell you this," Paur said. "When he went into our gym (for practice), and those doors shut, it was done the Roman way, methodically."
Paur said that, in the afterlife, he looks forward to playing a game of one-on-one against Barton. He said Barton was the toughest player he knows of, but that he feels he is a close second himself.
Joe Cravens, who coached Barton at WSU, said he didn't know what to think when he first met him.
"I used to say Brad's like a stray dog," Cravens said. "He just shows up at your doorstep and you can't get rid of him. In fact, he loved that story, and used to say, 'Coach, I'm the best stray dog you've ever had.' I would always say, 'Yeah, now if we only can get you house-trained.'"
Cravens said that, through the time he coached Barton, he came to learn that he was a hardworking player who would do whatever it took to win, often bending the rules. He said Barton ruined every drill he had, and forced him to change the rules because he would always find loopholes.
Cravens also said Barton was always looking to get an edge and help his team win. He went on to say that if someone let Barton keep score, his team would always win. He shared a story about how Barton would always find a way to make sure his team would win in practice drills. He watched Barton's team score a point, then the other team tied it, and he asked Barton what the score was.
"I walked down and said, 'Brad, what's the score?' He said, '8-2, our team.' I said, 'Brad, you just started playing; it can't be 8-2.' He looked at me and said, '6-2, our team.' I said, 'Brad, you just started playing.' He said, 'Coach, do you know the exact score?' I did, but I said no, and he said, '4-2, our team.'"
While all the speakers brought their own memories and stories of Barton, one message was consistent: that he was a great leader and friend, and left a lasting message for everyone he knew.
"If Brad is listening today," Bret said, "and I think he is, he would say, 'If you learn anything from me, learn this: Life is too short to hold grudges. Surround yourself with people who make you happy . . . read books. Laugh, cry, feel every emotion. Love your family. See the good in everyone."
Jasmine Petit
viewpoints editor
[email protected]
A candlelight vigil in memory of Coach Brad Barton was held on Oct. 10, to honor his family, pay final respects and give closure to the campus and community. The vigil was held on USU Eastern's campus in the library pit.
Before the vigil began, radio interviews of Barton on KOAL AM 750, were played from Jordan Buscarini. He was talking about his team from the past season and this years team. There were a few funny moments during the interviews with Barton, when he told who the best and the worst dressed players of his team from the past year.
Thomas Garvin, student body president of USU-Eastern, was the master of ceremonies and the first to speak. He talked of the many life lessons Barton taught those he befriended. One lesson that really stuck with Garvin was one of no excuses. It did not matter what had happened, there was no excuse for not completing the job you were asked to do.
Buscarini, sports director for Castle Country radio, gave a couple remarks about his interactions with Barton after he was appointed interim coach and head coach for the Eagles.
Buscarini said, "I have had the pleasure of interviewing several professional basketball coaches such as Phil Jackson, Rick Carlisle, Keith Smart….. I say this with total honesty, Brad was intellectually on their level. He knew the games of basketball through and through. Anytime coach talked, there was no doubt I was listening and absorbing what he was saying."
"One of my first interviews with coach, we were doing a segment to get to know him a little better, more of a personality interview. I asked coach what his favorite song was and without hesitation he replied "The Star Spangled Banner," That alone tells you that his priorities were straight and that this was without question a person you would want to lead a young man."
Buscarini continued, "Like I've said so many times, we lost a great coach, but an even better man. He was a great teacher, and of course, friend. The two rarely tie in together, I suppose that is why we call him coach."
Barton was then named the inaugural recepient of the Legacy Award, the award was for the hard work he had done not only for his players but for the students of USU-Eastern, " he always did more then you asked him too," said Caitlin Nelson, women's basketball player.
Barton's parents accepted the award for him and gave a few words of hope for his players. " He loved you so much, he would always talk about all the great things he got to do with you boys," said his mother Pam. "The outpouring of love is amazing, but I would give it all back to have a little more time with him," She told the story about the last weekend before he died, how he showed up early Saturday morning to spent time with his parents, siblings and played basketball with is nieces and nephews.
His father talked about when he got to take Brad to North Carolina to research genealogy on Michael Jordan's ancestors and his former college. He also traveled to Chicago, Ill. to visit the Chicago Bull's stadium.
McKay LaSalle was the representative from the men's team and he said, "Coach Brad never married, but basketball was his wife and we (men's basketball team) were his kids."
"On the court he was stingy and fierce, off the court he was the most loving person and he had the biggest heart." "Coach Brad used to say if you need anything at all just give me a shout."
"It's unbelievable in 31 years, all the peoples lives he touched, all the hearts he burrowed into and will stay in forever. Coach had and unmatchable mind, he had knowledge on many subjects. Any conversation you had with him there is no doubt in my mind you became wiser and learned to think a little deeper on the subject and on life," LaSalle continued to say, "He could sum up the confidence of a god, when he believed in something he found a way to make the others around him believe the same. Coach loved better than anyone. The way he would speak of his family, or as he would call them, the one guarantee in his life."
" Coach loved what it says in John 15:13 which reads – greater love has no one than this, to lay down one's life for one's friends," LaSalle finished.
Last to speak was athletic director and head women's basketball coach, David Paur, who told of both he and Barton being history buffs. He read a letter written by Solomon a colonel in the Union Army. Solomon wrote a letter to his wife and kids telling them of his death that he knew was coming, in the letter Solomon said, " Whenever you feel a breeze that comes out of nowhere, know that it is me."
Coach Paur closed by saying, "So to you, his family, I say whenever you feel a breeze that comes from nowhere, know that it is Brad and that he loves you and is watching over you."