Stories that made the year
The spring and fall semesters of 2011 were full of important stories for "The Eagle" and for the Utah State University-College of Eastern Utah campus. There were breaking news stories, tragedies and sports stories. To end 2011 The Eagle staff compiled the top-ten list of the most important stories for USU Eastern.
10- New basketball coaches unveiled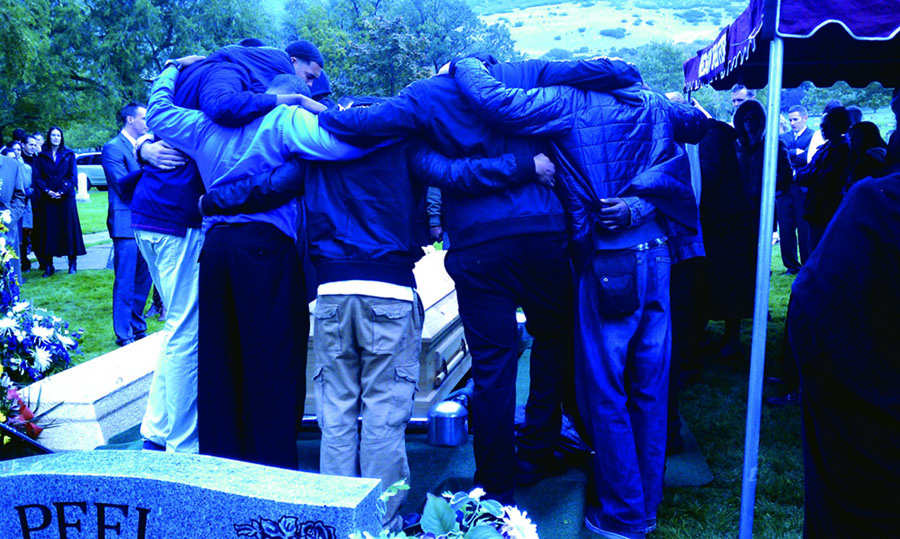 This archived article was written by: [email protected]
The spring and fall semesters of 2011 were full of important stories for "The Eagle" and for the Utah State University-College of Eastern Utah campus. There were breaking news stories, tragedies and sports stories. To end 2011 The Eagle staff compiled the top-ten list of the most important stories for USU Eastern.
10- New basketball coaches unveiled
KC Smurthwaite, editor-in-chief for the 2011-12 school year starts the list with this story discussing the new coaching situation for the USU Eastern men's basketball team. Brian Edelstein was named as the interim head coach for the team after head coach Brad Barton died on Oct. 4, 2011. Women's head coach was named the associate head coach to help Edelstein with the day to day operations of running a team. Edelstein said in the story, "I am humbled and gratified for the confidence the administration has shown by my selection as interim head coach of such a successful basketball program." Smurthwaite also tells the background of the individual coaches and how they ended up at USU Eastern.
9- CEU who? A team who could've, would've, should've
The final article about the 2010-11 men's basketball team was much more somber than many people on campus and in the SWAC anticipated, and was written by Kris Sanford and Jordan Cunningham. USU Eastern entered into the conference tournament as the two-seed behind the NJCAA champions to-be College of Southern Idaho. USU Eastern was knocked out in their first game of the tournament by Salt Lake Community College, losing 86-72. Head coach Brad Barton said of the lose, "We had a tough game and didn't catch many breaks." The article was not all doom-and-gloom, but ended on a more positive note talking about the accomplishments by the players. Jonathan Mills was named to the first team all-conference, and signed to play with Chicago State University. Trevor Bamgartner and James Kinney were both named to the second team all-conference. Brady Hurst and Maxim Zakharov both received honorable mentions.
8- EUSA leadership receives $95,000 in student fees
What seemed to be at the forefront of news articles last year was budgets and how and where money was being spent by all auxiliaries. The article by former editor-in-chief Mae Goss says, "It is disappointing to students when they are assessed student fees that, with the years, see to steadily grow. Wouldn't it be nice to where your $200 fee goes each semester?" Now to highlight a few areas and their overall budget, intra and extramural sports received $14,266.344 for the 2009-10 school year from student fees, had -$176.18 from other forms of income and had a balance of $713.04. In 2010-11 they received $13,282.94 from student fees, $658.00 from other forms of income and ended the year with an overall balance of $3,395.61. EUSA received $95,390 for the 2009-10 school year from student fees and made $3,053 in other forms of income and ended the year with an overall balance of $68,539. In 2010-11 EUSA received $88,445 from student fees and made $3,369 in other income and ended the year with a balance of $160,223.
7- Funding for USU Eastern last in SWAC/After 1998, Snow College Enrollment double USU Eastern
In the seven spot there is a tie for who is the victor. David Osborne Jr. the sports editor wrote the story about USU Eastern's athletic budget being the last in the conference. The article says, "With all of that excellence the athletic department has the lowest budget in the Scenic West Athletic Conference, when compared to conference schools competing in volleyball, baseball, and both men's and women's basketball." The school that is closest to USU Eastern is Colorado Northwestern Community College which has a budget of $825,475, USU Eastern is allotted $609,428. The enrollment article was contributed by The Eagle staff and discussed the differences of enrollment between USU Eastern and Snow College. In the last two years Snow college attracted 500 students from Utah county (the largest growing county in Utah 2009-10) whereas USU Eastern has only attracted under 100 from the same area.
6- Eagle Staff Rules at Utah Press Association contest
In 2011 The Eagle was inducted into the Utah Press Association, and immediately they were a force to be reckoned with. The Eagle brought home three first-place awards, three second-place awards and three third-place awards. David Osborne Jr. took first in Best Sports Column for "Next on the Tee," Les Bowen won for the best Website Design and finally the staff won for Screw Up of the Year for running a photo taken by Jessa Love Adams. The Homecoming Photo page took second in the best Photo Page category, Scott Fredrick won second place for Best News Photograph of the men's basketball team winning the SWAC Championship, the final second place came from the series "'Sweeney' scheduled to please audiences," in the Best Feature Series. Adams won a third place award in the Best Sports Photograph category for a photo taken of volleyball. The staff brought home another third place award Best Sports Page for the pages dedicated to the SWAC conference pages. The final third place came in the Best News Series for the "Stench in the SAC."
5- Snow removal causes student to miss class
Snow is something that we all must deal with living in Utah, and Mae Goss found out that for Kris Sanford, a student attending USU Eastern in 2010-11 made life more difficult because Sanford is in a wheelchair. Sanford missed a couple days of class due to not being able to get around because snow had not been removed from the sidewalks or wheelchair ramps. Sanford said, "I wouldn't have been able to get to class without my friend. Most people just step over ice or snow, but my wheelchair simply does not go over any piles of snow or ice throughout the main parking lots."Jan Thornton, director of disability resources said, "I would like to see us prioritize our snow removal and do a walk-through with the disabled students, to see what they need, specifically."
4- Campus to triple in size; thanks to land from donor
USU Eastern was given a 25-acre gift of land from an anonymous donor, and Karli Miller was there to report it. The land is to be used as an Energy and Education Research facility. The city of Price has also donated $500,000 towards building a road to the facility. "There are no immediate plans for the building. A lot of partners and significant donors will be needed to move it to the next level, but does open up a lot of possibilities for us in the future," said Brad King, vice-chancellor for administration and advancement, about the land donation. The building will be used for research projects to study energy and coal.
3- Student Government up fees $25, cut newspaper and police budgets
USU Eastern had a 12.5 percent increase in student fees instead of the original 25 percent that the Student Fee Allocation Committee had originally intended. Along with those increases there was feasting for some campus groups and then there was famine for others. Including those that were cut was the student newspaper The Eagle and the campus police and The Eagle Staff wrote about it. The newspaper budget was cut by a whopping 10 percent while campus police were cut by 4 percent. Many were upset by the budget cuts and Susan Polster, Ph.D., and advisor of The Eagle said, "Not one SFAC member came by to interview me about my program. We have not purchased a new computer in three years and purchased a used-camera last year. All our furnishings came from other department's discards. There is no fat in our budget."
2- Student Services restructured
Enrollment this semester has dropped 310 students since last semester and because of this the school hired an enrollment management consultant firm (Scannell and Kurz) was brought in to analyze the enrollment process. Because of the results found by the firm everything in Student Services is going to be restructured and Tadd Mecham was sent to report everything. There are going to be three new departments to help the enrollment process. The Department of Enrollment services is responsible for coming up with effective recruitment and admission strategies. The Department of Student Success is responsible for the improvement of student success. And finally the Department of Student Life, Leadership and Involvement is responsible for creating a campus that will entice new students and retain students that have already been here. Those working in Student Services were informed of this on Nov. 4, 2011 and were given a week to decide whether they would apply for a re-hire or if they would move on. The student body got together to move up the application date for re-hires and also moved backed the termination date for those that are not coming back.
USU Eastern head basketball coach Brad Barton dies at 31
"I'm living the dream," that was always coach Brad Barton's mantra. Barton was found dead in his Price, Utah apartment. Barton was a beloved figure on campus and that was apparent by looking at his facebook after word got out that he had passed on. Hundreds upon hundreds including friends, family, faculty, staff, students and athletes expressed their feelings towards Barton. Nick Thompson's thoughts sum up everybody's feelings the best, "I would not be the man [or woman] I am today without you. You taught me so much. I will never forget all the times we had man. You were one of my best friends. Every time I step on a court [or see one], I know you will be there." Barton's life was basketball and he spent his life doing what he loved. Coach Brad Barton, our coach, March 5, 1980 to October 4, 2011.
It was certainly a crazy and busy year full of many newsworthy stories. We at The Eagle had a wonderful 2011 and hope that you did as well. We are hoping that 2012 will have even more great stories and that we will be there to report them.