It is no "stretch" to believe that Perkins belongs here
One of USU Eastern's stars is Jeff Perkins. He brings height and passion to the team. He is a very hard worker and contributes to the team every day.
Everybody knows him as the crazy, hyper and funny guy. Perkins is always singing or dancing; he is the class clown everywhere he goes. But on the court, he is aggressive and takes the game seriously.
Perkins was born in Seattle, Wash. He says that one of his favorite childhood memories is playing basketball in his friend's backyard. They would leave the hoop at seven feet so they could all dunk on each other.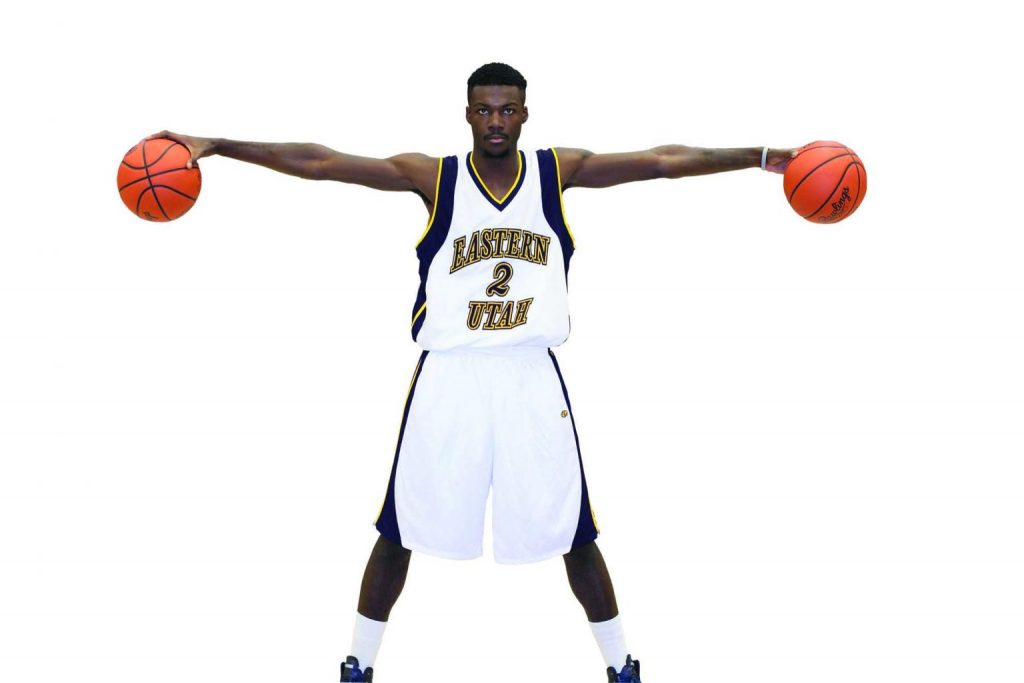 This archived article was written by: Kameron King
One of USU Eastern's stars is Jeff Perkins. He brings height and passion to the team. He is a very hard worker and contributes to the team every day.
Everybody knows him as the crazy, hyper and funny guy. Perkins is always singing or dancing; he is the class clown everywhere he goes. But on the court, he is aggressive and takes the game seriously.
Perkins was born in Seattle, Wash. He says that one of his favorite childhood memories is playing basketball in his friend's backyard. They would leave the hoop at seven feet so they could all dunk on each other.
What you may not know about him is that he used to play the drums. He loved practicing them and playing cool beats. He was always creating a ruckus throughout the house or wherever he may have been practicing.
He played his freshman season at Eastern Arizona; and transferred to USU Eastern his sophomore season. Perkins came to Eastern because he played in a game last year where Coach Roe coached the opposing team. Roe asked him to be a part of the 2012-13 Eagle squad and "it was an easy decision" to join because he already liked Roe's coaching style.
He says he loves playing for the Eagles because of the team is as a whole is a lot of fun. "They're always so humorous and fun to be around."
He says his favorite part about playing basketball is how exciting and fun it is when it gets competitive.
His basketball idols are Kobe Bryant and Kevin Durant. "They have killer instincts, and do what they want out on the court."
His most memorable moment of basketball is when he competed in a dunk competition with NBA players. He finished in second place, only losing to a professional dunker.
After this year he hopes to continue his dream of playing basketball. He says that basketball is what makes him himself, and makes him happy.
Coach Roe says, "Jeff is a great kid and is a talented, athletic man that has lots of potential. He is a always making people laugh with his jokes and personality. He is fun to have on the team. "