Finish the year with a laugh
What do you get if you throw together two traveling actors, a chance of a lifetime, a little alcohol, a deaf mother-in-law and several tangled love triangles?
"Moon Over Buffalo," a slapstick comedy full of dreams, misunderstandings, and a few "pitfalls" that will have the audience rolling with laughter.
"It's a great time to come and welcome spring with some great laughs!" Lisha Michel says, "You'll leave all laughed out."
Braden Nelsen adds, "[Everyone] needs a break, and a good 45 minutes to laugh."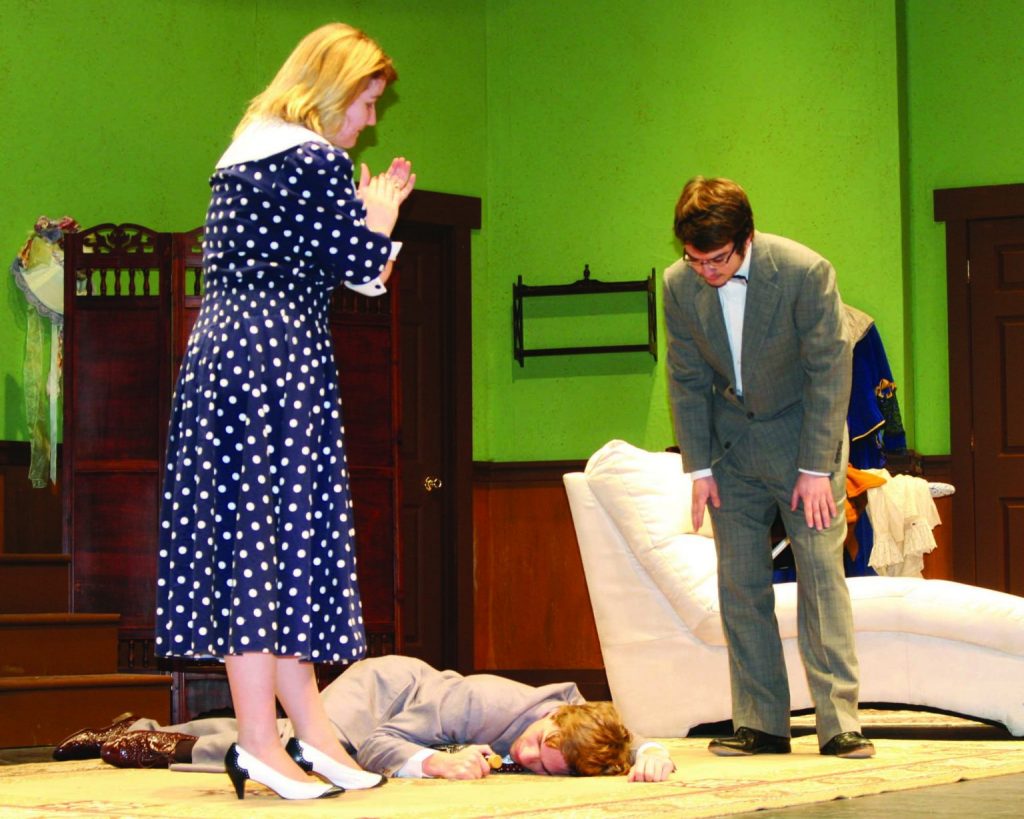 This archived article was written by: Ashley Stilson
What do you get if you throw together two traveling actors, a chance of a lifetime, a little alcohol, a deaf mother-in-law and several tangled love triangles?
"Moon Over Buffalo," a slapstick comedy full of dreams, misunderstandings, and a few "pitfalls" that will have the audience rolling with laughter.
"It's a great time to come and welcome spring with some great laughs!" Lisha Michel says, "You'll leave all laughed out."
Braden Nelsen adds, "[Everyone] needs a break, and a good 45 minutes to laugh."
George and Charlotte Hay, played by Braden Nelsen and Annie Morey, want to follow different dreams. Charlotte dreams of becoming a Hollywood star, while George scoffs at films and believes that live acting is superior to what's on a screen.
But one phone call from a famous movie director gives the Hays the opportunity of a lifetime. The Hays are asked to be replacement stars for a Hollywood film.
However, because George has had a messy love affair with fellow actor Eileen, played by Monica Parkinson, Charlotte doesn't believe that the phone call is true. She plans to leave George for charismatic lawyer Richard, played by Tyrell Clement.
George decides to drown his sorrows in alcohol and disappears. Charlotte realizes that her opportunity to be a Hollywood star is slipping away and she desperately searches the city to find George. But it's hard to be a star when you're drunk, as George soon finds out.
"My favorite [part] is whenever George is drunk," Parkinson says. "This play is hilarious. I think everyone will love it."
The Hay's daughter Rosalind, her fiancé, and her ex-fiancé, who are played by Alexandra Cale, Josh Zelasko, and Braden Hampel, are thrown into the mix, along with Charlotte's near-deaf mother-in-law Ethel, who is played by Michel. Hilarity ensues as love affairs mix and mingle with family affairs.
"This show is an all out good time from start to stop," Hampel comments.
Some of the actors' favorite lines are "Where the hell is Mafia when you need them?" and "We are all dead!"
"Moon Over Buffalo" is the fourth play that the USU Eastern theater department has staged this year. Corey Ewan will be directing along with Grady McEvoy heading the set design and lighting.
The play runs from April 4-13th at 7:30 p.m. at the Geary Theater. Tickets are $10 for adults, $7 for senior citizens, $5 for non-USU Eastern students and faculty, and $2 for USU students and faculty with their ID cards.