A Method Called Collodion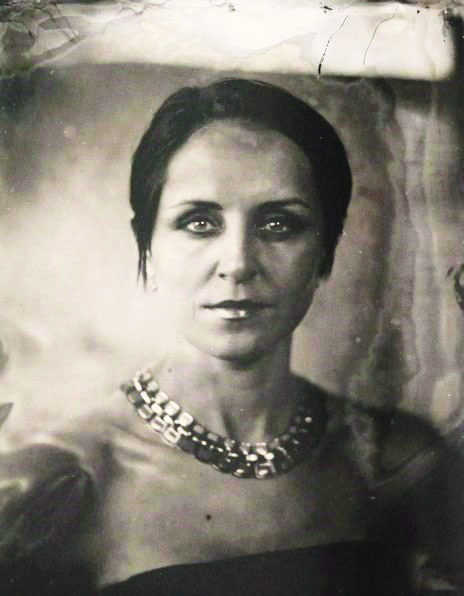 This archived article was written by:
Dave Hanson, owner and operator of Hanson's Custom Paint and Body in Price, is showing his talent for work on metal, but not automotive metal. His artwork is a unique photographic process that produces an image on both metal and glass and USU Eastern's Gallery East will feature his work in its first exhibit of the academic year titled "Images on Metal and Glass" from Sept. 9 through Oct. 3.
Hanson has chosen to work in the nearly archaic 19th-century method called the collodion wet plate process. Invented by English photographer, Frederick Scott Archer in 1851, this process used ferrous sulfate as a developer and potassium cyanide to fix the image. Though it required the photographer to use a portable darkroom, the images were exquisite.
The exposure time is much longer than one expects, but the collodion process produces beautiful and sometimes haunting images. Hanson says, "Wet plate photography is a tangible process, which is slow and methodical. Each image can take me up to 15 minutes to produce. It forces me to slow down and think the image making process through. In the end I am able to produces a unique object of art, representing a collaborative moment of creative expression."
By the end of the 19th century, the collodion process was largely replaced by gelatin-dry plates and paper supports coated with an emulsion layer of silver halides suspended in gelatin. These newer processes resulted in faster exposure times and safer developing procedures, but the images are no less compelling. Though the process is historically obsolete, a handful of skillful photographers like Hanson are trying to bring the collodion process back.
Gallery Director Noel Carmack adds, "this is probably one of the few opportunities for interested viewers to see this unique photographic process outside of a museum."
A reception and gallery talk by Hansen about his work will be on Friday, Sept. 13 from 7 – 9 p.m. Students, family and the public are welcome to attend. The gallery is free and open to the public during the academic year on Monday through Thursdays from 11 a.m. to 5 p.m. It is located on the northwest corner of the old Student Activity Center.
Any questions about Gallery East should be addressed to Carmack at 435-613-5241 or by email at [email protected].