"Zombie Prom," the musical, opens Eastern's fall theatre season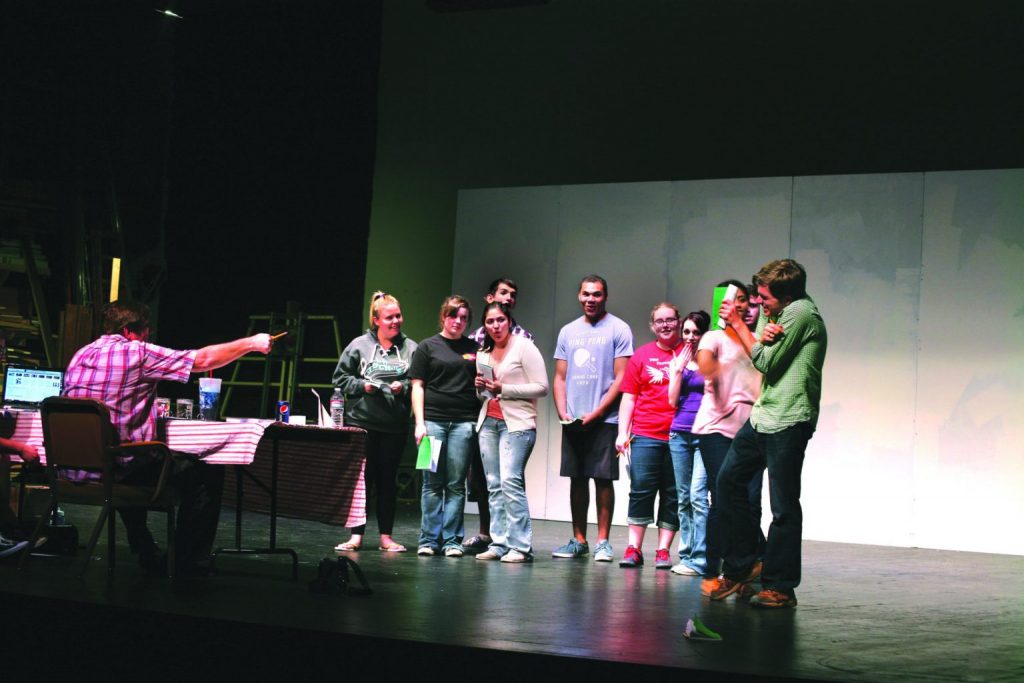 Eastern Utah Theatre Department opens the 2013-2014 season with Dana P. Rowe's and John Dempsey's "Zombie Prom," a musical. It is a cross between "Grease" and "Night of the Living Dead," but without any brain eating, smiled its director Corey Ewan, Ph.D.
Samuel French, Inc. describes the show as a "girl loves ghoul rock and roll off Broadway musical set in the Atomic '50s at Enrico Fermi High School, where the law is laid down by a zany, tyrannical principal."
Sophomore Annie Zelasko plays Delilah Strict, the principal. Pretty senior, Toffee, played by freshman Melisa Guzman, from Pineview High School, has fallen for the class rebel Jonny; who spells his name without the customary "h."
Jonny, played by Ryan Pettingill, Stansbury High School graduate, loves Toffee, but family pressure forces her to end the romance. Jonny is so distraught over the forced break up that he crashes "headlong into the main waste treatment silo of the Francis Gary Powers Nuclear Plant."
Completely irradiated, he is buried miles out to sea in a lead lined coffin. But, love brings Jonny back from the dead as a nuclear zombie, ready to finish high school and win Toffee back. Will he win back her love? Will he be allowed to go to the prom? Is there room for a zombie at Enrico Fermi High? What could this zombie learn to become a productive member of society?
Stop by and see for yourselves when the play opens Oct. 10 and runs through the 21 at the Geary Theatre with curtain time set at 7:30 p.m.
Ewan said the cast is made up of predominately freshman with seven actors from throughout Utah and Nevada. Sophomores make up four members of the cast with one student from Carbon High School.
"They are a very talented group and are anxious to show off their talent. The songs are fun and reminiscent of the 1950s. Zombie Prom is a very tongue in cheek production aimed primarily at humor," Ewan said.
The cast includes Jennifer Thomas, Lesly Gaona, Libby Petereit, Ryan Pettingill, Braden Nelsen, Mckylin Rowe, Adam Bone, Josh Bone, Brynne Hunt, Josephine Slade and Braden Nelson.