Into the creativity of Brent Innes, building "Zombie Prom" set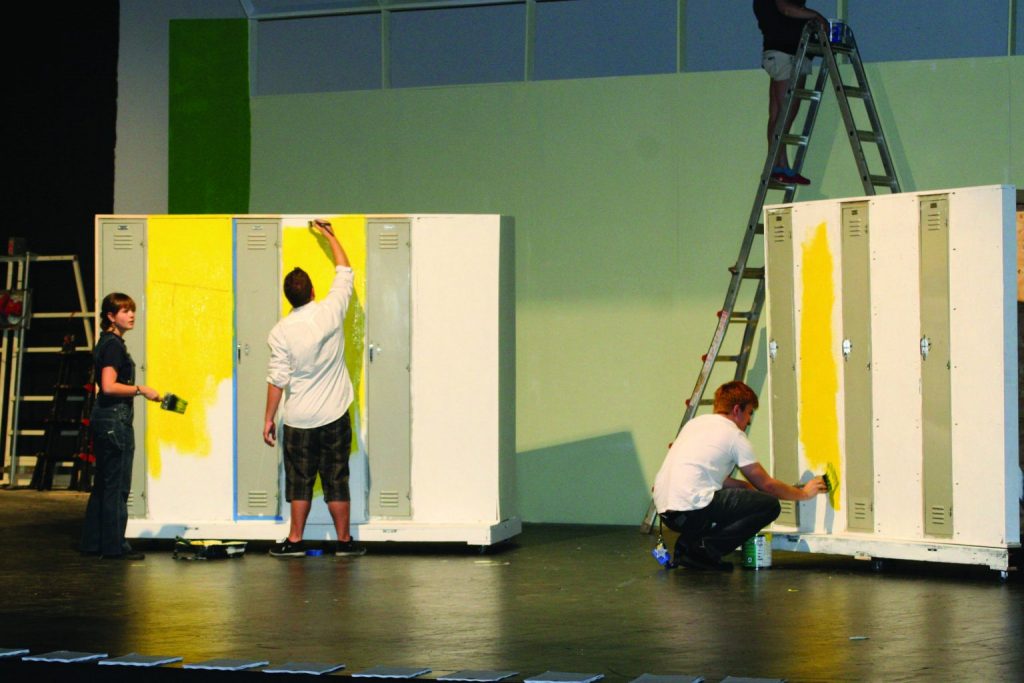 This archived article was written by: Josie Slade
Plywood riddled with screws and nails forming a wall, roll on pieces are ready to be rolled onto the stage during rehearsals (making it that much easier for actors to visualize exactly what they need to). "Zombie Prom," USU Eastern's first production is coming together rather quickly and this is due to the set designer, Brent Innes.
With many set designs under his belt, Innes is already doing a fantastic job on the set of the musical. Every day the set production class accomplish more than many would think possible. There is always a new piece on the stage for rehearsals that night. Innes works on sets for USU Eastern, and travels back to St. George every weekend to continue his work for Tuachan throughout the fall semester.
Innes has never been involved with the production of "Zombie Prom" before, but doesn't let this deter him in anyway.
From the beginning, Innes has had a clear set path that will help him execute the set. The ideas he has for the set comes from comic-books, "The inspriation for the set is really coming from comic-books. The script is very much comic book style, so the set will be too. There are going to be a lot of almost too real colors. Bright greens and pinks." He said that he was going to have a few surprises for the audience.
Working with Tuachan, Innes has been involved in many productions over the years. The ones he says he's most proud to have been involved in is "James and the Giant Peach," "Aladdin," "Little Mermaid" and "Sweeney Todd." These productions took place at Tuachan, Dixie State and Utah State University. 
In addition to all of the productions he has been able to participate in, Innes has a bucket list of shows he would like to do in the future. "Rocky Horror Show" and "Batboy the Musical" are two of the ones that have made the cut. Whether these will make a debut on Eastern's stage remains to be seen. It's obvious that he has many creative ideas and will bring a lot to the theater department.
Innes says he has no specific plans in the future for USU Eastern, but does know that he will make big things happen. Already with "Zombie Prom," he started to do incredible things on stage. With a fun and interactive set, this show will be a fun night of entertainment for everyone.