Rhonda Rhodes named music instructor at USU Eastern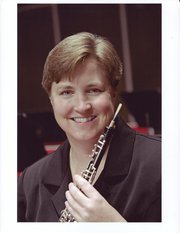 This archived article was written by: Kate Tresner
Striding across the black and white tiles of the choir room, Rhonda Rhodes conducts the USU-Eastern choir into the crescendos and decrescendos of music, ranging from a Gaelic melody to a selection from "Porgy and Bess," leading them through the nuances of the music.
Rhodes is the new choral and band director for USU-Eastern
Born in Arizona, and raised in Vernal, Utah, she graduated from Uintah High School. She received a bachelor's degree in music education with a minor in music composition from Utah State, and a master's degree in instrumental conducting from Northern Arizona University.
"I wanted to conduct, I wanted to lead," Rhodes said. "The fascination of leading a whole bunch of [musical] parts at once and understanding how they all work together really appealed to me…I wanted to be in charge of all the voices." She is working on her doctorate in music education at Boston University.
She was first intrigued with the idea of teaching music when she was a freshman in high school. "I wanted to teach music and I wanted to teach it in public schools. It made such a big impact on my life as I was going through the public schools," Rhodes remarked. It was then and there she decided to become a teacher.
"Sometimes it's the music teacher that gets you into [music]," Rhodes mentions. "For me it was just the music." She has a lot of experience in teaching music. She has taught in high schools and colleges as well as in the community. She has 15 years of experience teaching high school and 10 years teaching in middle school. Rhodes taught at Dixie State for 10 years as a part-time professor.
Teaching the student choir and Introduction to Music this semester, Rhodes makes sure to save time "to just sit and listen to music." She continues, "[It's something] a lot of people don't have the patience for anymore…the artistic creation of it is less and less appreciated."
Rhodes is performing at the Tuacahan Amphitheater in Southern Utah, a professional music company widely respected in Utah for aspiring musicians. "I really like playing for musicals because there's so much variety," Rhodes said. "The appeal of the skill and being able to conquer it has always appealed to me." In the musicals "Mary Poppins" and "Thoroughly Modern Millie," she doubles on several woodwind instruments including the oboe and English horn for "Mary Poppins" and the clarinet, soprano saxophone and tenor saxophone for "Thoroughly Modern Millie."
The "Messiah" will be conducted by Rhodes this coming December. For students or those in the community who want to participate, the practices are every Sunday night at seven p.m. in the Brown Music Building on the USU-Eastern campus. Rhodes is also hoping to conduct over a few classes next semester including individual saxophone study, wind symphony, and music fundamentals.