SUN Center service project: curly fries or a 5k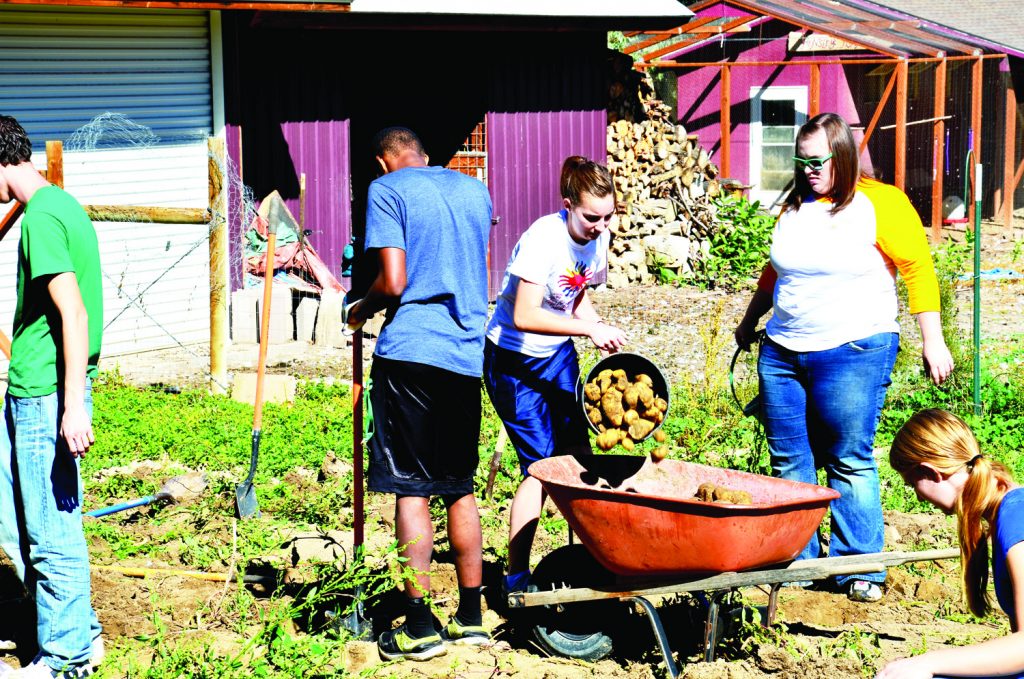 This archived article was written by: Emma Rowley
Service projects in the SUN Center are in full swing, and with no further attacks from Mammoth Mosquitos, this year's SUN Center involvement leaders (SCILs) are moving forward with confidence. On Sep. 21 the SCIL's and volunteers headed up to Spring Glen to harvest a potato patch, also known as the Potato Project. Sep. 28 the boys and girls basketball teams and volunteers participated in Active Reentry's Annual Run, Walk and Roll.
The Potato Project started at 9 a.m. and the volunteers soon realized that they were in worm heaven. They also realized that two of the volunteers were deathly afraid of worms. The fun escalated from there. "We were all really tired from the foam dance the night before, which just made everything more funny!" said one volunteer. All the good potatoes were taken and washed while the bad ones were thrown at the geese in the neighboring field. No geese were injured during this project. All worms were thrown at Lauren Smith and Kambrea Tanner, who then ran off screaming. Smith and Tanner were not permanently harmed from the worms.
Around one in the afternoon people started to get grumpy. "I hadn't eaten breakfast or lunch and I was starving!" said Dakoda Lindsay. Fortunately Terry Johnson, SUN Center adviser, had some sandwich supplies handy and most importantly, a curly fry maker. The volunteers quickly used some of the potatoes they had harvested to make curly fries. "We ended up with 500 pounds of potatoes, but I think we would have had more if we had not eaten so many. But it was worth it." was Kelsie Gajewsky's opinion.
The food bank was grateful to receive 500 pounds of potatoes and was glad that the volunteers had so much fun harvesting them. The SUN Center is excited to donate more to the food bank at the end of October from our Trick or Treat for Food project.
If greasy food is not your thing you would have had a blast during Active Reentry's Run Walk and Roll. Active Reentry is a service organization that helps people get back on their feet after a surgery or accident. They provide wheel chairs and other equipment to people in need. Run Walk and Roll is a 5K that is open to the whole community. The SUN Center is proud to volunteer for such a positive organization.
The race started out by the fairgrounds and the runners were actually happy to run since it kept them warm. USU Eastern's basketball team participated in the run. Makayla Chadwick, a volunteer at the race, said "I think it is so cool the basketball team came to help. They made it fun." Nikkita Blain also enjoyed handing out water at the race. She said "It is awesome how many people came to support this event!" Everyone was welcome to run, even four dogs participated.
Whether you prefer curly fries or running a 5k there is always something for you to do at USUE SUN Involvement Center. It is located on the second floor of the Student Center in the same room as housing. It is a great place to do homework, have fun and find out about service activities in the community and on campus.