Tough start to volleyball SWAC season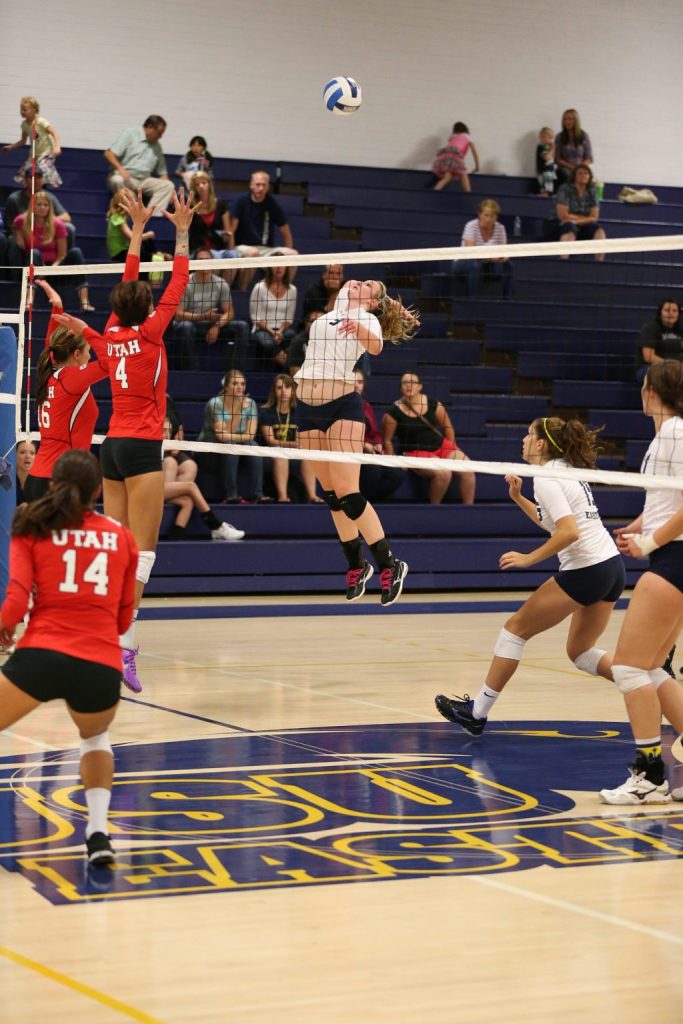 This archived article was written by: David Osborne Jr.
The Utah State University-Eastern Golden Eagles opened up region play on their home court over a two day period playing host to North Idaho College on Friday, September 27, and the College of Southern Idaho the following day. Unfortunately for the Golden Eagles, both NIC and CSI wanted to spoil the opening of region play.
Coming into the Bunnell-Dimitrich Athletic Center for the first game, the Golden Eagles faced NIC, which as of the September 25 National Poll, was ranked 17th in the nation. It proved to be too much of a task for the team, however, losing in three straight sets, 25-23, 25-18, 25-14. Eastern gave up 45 kills to NIC while only getting 22 kills in the three sets. The team also lost the error battle as well but that was by a much smaller margin forcing NIC into 23 errors while having 24 of their own. The team was lead by Amanda Freestone, who had nine points in the contest, and Jessica Wilcox, who had five and a half points. Wilcox also led the team in digs, with 12. While attempting 102 total attacks, the Golden Eagles only capitalized on 24 for a kill percentage of -0.02.
Hoping to shake off the rust from the night before, USU Eastern had to face another ranked opponent, CSI, which is currently ranked fourth in the nation. Once again, the ranked team proved to be a little too much for the team to handle, losing three straight sets again, 25-19, 25-20, 25-22. Eastern was able to keep CSI from creating a large discrepancy in the kills between the two teams, giving up 37 while getting 31 of their own over the three set match. Once again, Freestone and Wilcox had the most points among the Golden Eagles, with eight and a half and seven points respectively. Paige Peterson and Carly Dalton both had stand out games as well, Peterson with 12 assists and Dalton with 13 digs.
Talking about the weekend, head coach Chelsey Warburton said, "We have moments every game where we are playing great volleyball at a high level." It certainly is a point that should be made; the team was certainly in every set this weekend losing by single digits in all but one. "Our battle has been keeping our play at that high level," she added. With seven sophomores and seven freshmen there certainly is a learning curve that is taking place and the growing pains that come along with it.
When asked about a key player for the team over the weekend Warburton remarked, "Amanda Freestone has been our impact player. She puts up a great block for us as well as gives us options for our offense." Freestone certainly has been an impact player for the team with 86 kills, 125 points, and 66 block attempts so far in the young season. The team will need her to keep playing at a consistent level.
Following opening weekend in the Scenic West Athletic Conference, the standings are rather drastic with teams either undefeated or winless. CSI (2-0) in first, NIC (2-0) taking second, Salt Lake Community College, ranked eighth in the nation, (1-0) filling the third spot, Snow College (0-1) in fourth, USU-Eastern (0-2) in fifth, and Colorado Northwestern Community College (0-2) sitting in last. The Golden Eagles will next take the court in Rangely, Colorado, taking on CNCC and looking to get their first win in region play. This is the first of a three weekend road trip before the team returns home again to face SLCC and Snow on Oct. 26.