Annual Founders Celebration to honor 21 USU Eastern stalwarts on Oct. 25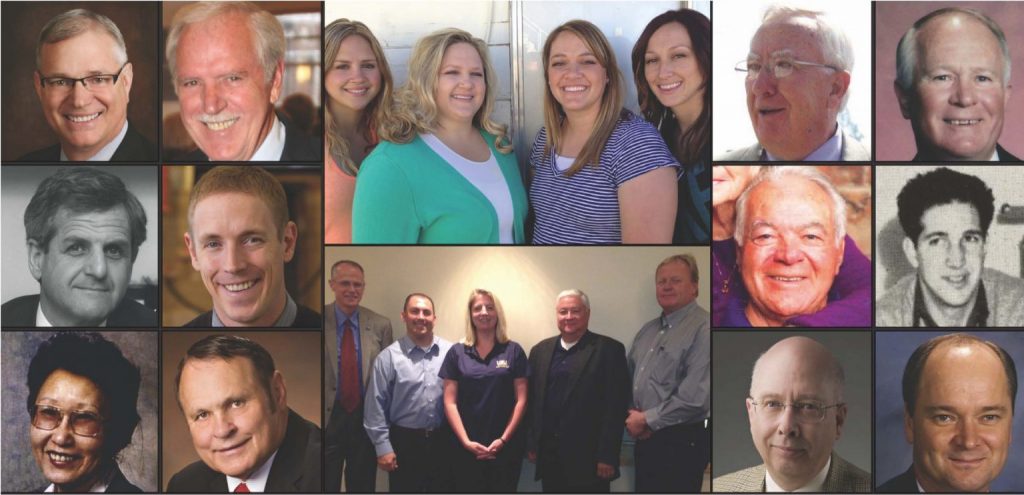 Utah State University Eastern will honor donors, alumni and community members under five-award categories at its annual Founders Celebration Oct. 25 in the Jennifer Leavitt Student Center on the USU Eastern campus.
A reception begins at 6 p.m. followed by dinner and awards at 6:30 p.m. Students, faculty, staff, alumni and community members are invited. Tickets are $25 per person with a request to RSVP (435-613-5256) by Oct. 18.
This event, held regularly since 1988, combines the celebration of the founding of the college with the Carbon County Athletic Hall of Fame. The theme of this year's celebration is "75 Years of Transforming Lives."
This year's Gold Circle Donors include Marc C. Bingham, Anthony J. Basso, Bobby Houston (Intermountain Electronics), and Michael Milovich (Eastern Utah Community Credit Union). The college's Outstanding Alumnus Award goes to Wayne Mathis. The "Upon Their Shoulders Award" is being given to Brad King. The "Athletic Hall of Fame" award will be going to Chris T. Randall and to the Warburton sisters: McKell Warburton, Cassie Warburton Hahl, Chelsey Warburton and Morgan Warburton Nelson.
Distinguished Service Awards will be given to the steering committee of the "Building Vitality Campaign," and the 1954 student body officers of the "Save Carbon College" campaign. Steering committee honorees include Renee Pressett Banasky, chair; Frank J. Peczuh, Erroll Holt, Jason P. Dunn and Albert Barnett. Members of the 1954 student council who will be honored include Richard Saccomanno (posthumous), Dominic Albo, Jr., Kazuko Niwa Okino, Dee Miller and Rex Guymon.
Marc Bingham graduated from Utah State University in 1963. In 1971, he founded the company, Phone Directories Company (PDC) in Price, later moving its headquarters to Utah County.  The company grew to over 700 employees with annual revenues of $75 million. After selling his company in 2007, he started Blue Diamond Capital that manages over $200 million in assets of 20 companies across seven Western states. He recently donated funds to USU to build the Bingham Entrepreneurship and Energy Research Center on the Uintah Basin Campus.
Anthony J. Basso attended CEU for a couple of years before starting his passion for business. His first business was started on Main Street in Price while in high school and has since expanded his interests to include car dealerships; restaurants; real estate; broadcast; businesses; investments and the oil and gas industry. He spoke at USU Eastern graduation a decade ago and told students his 10 steps to succeed in life. A philanthropic humanitarian, Basso received an honorary degree from USU Eastern
Bobby Houston graduated from the College of Eastern Utah with an associate's degree in applied science – pre-electrical and computer engineering. After graduating with a bachelor's degree in electrical engineering from Arizona State University in 2006, he rejoined the family business as a project engineer with Intermountain Electronics. In 2010, he oversaw the construction of a new 60,000-square-foot factory in South Point, Ohio, after being promoted to Eastern Division General Manager.
Michael Milovich graduated from the University of Utah in '72 with a degree in finance. He has worked in the financial services industry the past 28 years including stints at First Security, Zions, First Interstate and is president/CEO of Eastern Utah Community Credit Union. His civic duties started as a member of Helper City Council and most recently Carbon County Commissioner. He served as a volunteer firefighter, EMT, EMS Council, advisory board member for CEU and Castleview Hospital and chairs the Utah Credit Union Association Board.
Wayne Mathis graduated from CEU in '65, earned a bachelor's of science degree in zoology in '69 from Brigham Young University and completed his doctorate from Oregon State University in entomology from Oregon State University. He also completed two years of military service with the U.S. Army. He joined the Smithsonian in 1976 where he researched systematic biology among beach and shore flies with field work in the neo-tropics (Caribbean, Israel, India, Sri Lanka and South Pacific). He also served as an adjunct professor at the University of Maryland at College Park and has written 204 publications.
Brad King graduated from CEU in '78 and went on to earn a bachelor's and master's degree in education from Brigham Young University. After teaching a year in Las Vegas, he returned to his alma mater and served as director of college relations, director of student activities, dean of students, vice president of institutional advancement/student services and retired as vice chancellor of administration and advancement. He is past president of Utah School Counselor's Association. He spent 12 years in the House of Representatives District 69, including a year as minority leader, representing Carbon, Emery, Grand and San Juan counties. His father, LaVell King taught at CEU for 34 years. His brother, Mike King, is a former interim president of CEU.
Chris T. Randall graduated from CEU in '75 where under Coach Curt Jensen, he was named first team All-Conference in basketball, Outstanding Basketball and Male Athlete of the Year both years; plus first team All-Region in basketball his sophomore year. He was also named All-Conference in baseball with a .352 batting average. He continued playing basketball at Mesa State where he was named to the Rocky Mountain Athletic All-Conference team and graduated with a degree in accounting. He is a CPA and holds a MBA from USU. In '87, he was named accounting manager for Logan Regional Hospital and in '09, named as director of accounting for the Urban North Region of Intermountain Healthcare for three hospitals.
McKell Warburton lettered in three sports at Carbon High School and given All State honors plus MVP. She played basketball at CEU in '00-'02 where she was named most improved player her sophomore year as well as graduating with honors. She transferred to Weber State University majoring in criminal justice. She coached a year at Ben Lomond high school before accepting a position with the Boys and Girls Club in Ogden. She most recently was director of the Carbon County Boys and Girls Club.
Cassie Warburton Hahl graduated from CEU in '04 where she played volleyball and basketball plus named First Team All-Region in basketball. She continued her education and basketball career at Southern Utah University where she was named All-New Comer plus honorable mention in All-Mid-Conference. She led the team in scoring and holds the record for all-time-single-season record for three pointers in '06. After graduating with a degree in elementary education, she moved to St. George where she taught at Sandstone Elementary.
Chelsey Warburton played at CEU in '03-'04 where she was named First Team All-Region in basketball. She continued to Weber State University where she holds the record for career three pointers with 238; single season three pointers, 108; most three pointers in a game, 8; and led the nation averaging 3.3 three pointers per game. She was named to the Big Sky Second Team and All-Tournament Team. She played pro ball in Amsterdam, Holland in '08-'09 where she was the team's MVP. Her coaching career began at her alma mater where she is head volleyball coach and assistant women's basketball coach.
Morgan Warburton-Nelson was named 3A Basketball MVP in '05. She started her collegiate career at the University of Utah in '06 where she was a three time First Team Mountain West Conference player, MWC Player of the Year, Associated Press and WBCA Honorable Mention All-American, third-round draft pick to WNBA for the Sacramento Monarchs and spent two years playing pro ball in Spain. She is also coaching at her alma mater as an assistant at the U of U.
Distinguished Service Awards will be given to the "Building Vitality Campaign" steering committee and the 1954 student body officers of the "Save Carbon College" campaign.
The members of the "Building Vitality Campaign" steering committee being honored are Renee Pressett Banasky, chair; Albert Barnett; Jason P. Dunn; Erroll Holt and Frank J. Peczuh Jr. All five spent many hours planning and contacting individuals and organizations with the goal of raising $1.4 million for a Central Instructional Building.
Since the completion of the Jennifer Leavitt Student Center in 1995 and the G.J. Reeves Building in 2003, USU Eastern has known the positive effect that new state-of-the-art facilities have on the vitality of the campus and the community. Its leaders struggled to get approval for a new building for the past decade. The Utah State Legislature appropriated $500,000 for the initial architectural programming and planning money for the CIB in 2013. While the initial funding was a great accomplishment, it became obvious that the only way to win final approval was to match that appropriation with private donations.
In order to augment the political and fundraising efforts of USU President Stan Albrecht, it was decided to create a steering committee of committed and passionate college supporters to spearhead the fundraising plan. Through their dedicated efforts that goal is in sight. 
When the legislature meets in January, they will be handed a completed architectural design and plans that represent a shovel-ready project for funding. The actual amount raised as of today is $1,259,000 in hand and an additional $380,000 in federal and private grants pending approval.
1954 Student Council Honorees
When Carbon College's class of '53-'54 student council was elected, council members thought they would be planning dances, attending athletic events and hosting meetings. Little did they know they would play a significant role in saving the college from permanent closure.
In a special legislative session in December 1953, the closing of Carbon College was signed into law by Utah Gov. J. Bracken Lee.
"The 250 students at Carbon College were going to lose their school if they did not step to the plate and get signatures from voters to force a referendum ballot," according to a time line in the college's 1954 yearbook.
Carbon College faculty adviser, J. Bryon Thompson, met with the five-council members and told them they had 60 days to get signatures from Jan. 8 to Feb. 18, 1954 to stop the college from being closed, the time line read.
Today, 59 years later, the college will honor all five of those dedicated officers: Dominic Albo Jr., student body vice president; Kazuko Niwa Okino, student body secretary; Dee Miller, freshman representative; Rex Guyman, sophomore representative; and posthumously, Richard Saccomano, student body president.
For two solid months, these tireless young students crisscrossed the state in Rex Guymon's oil-guzzling '39 Chevy to get the needed signatures for a referendum vote to repeal the law on the 1954 November ballot.
The council members achieved their goal and nine months later, Utah taxpayers overturned the law in a 60 to 38 percent vote.