From Riverton to USU Eastern, Madsen brings experience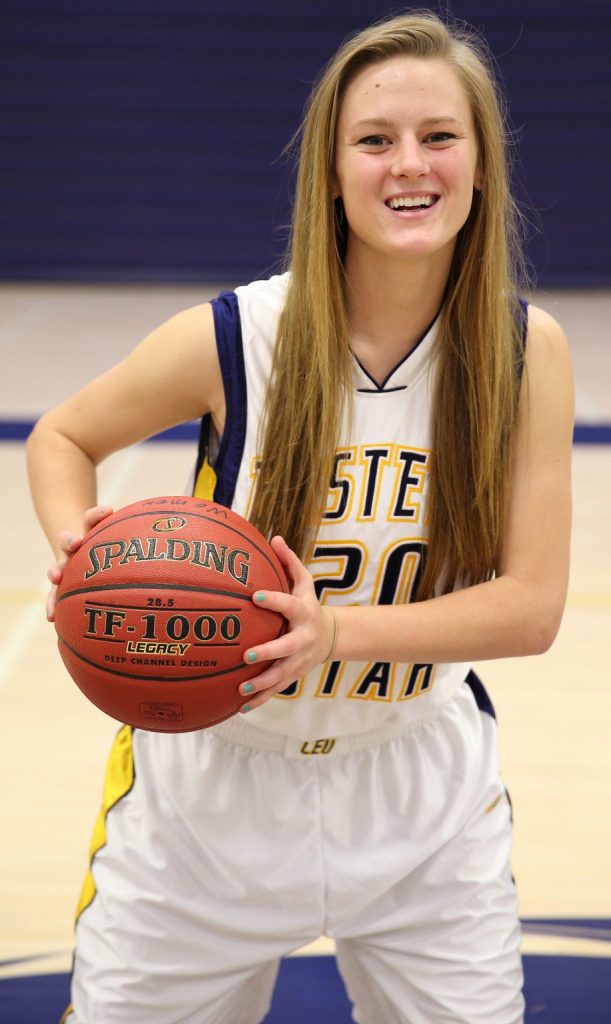 This archived article was written by: Rachel Scoggins
USU Eastern's Morganne Campbell Madsen stands at 5-foot 9-inches tall and returns as one of the sophomore members of USU Eastern's women's basketball team. She mainly plays point guard, but can play just about any position on the court if needed. She played high school ball at Riverton High School and is on scholarship for USU Eastern.
Madsen played only basketball in her high school and lettered in the sport from her freshman year through her senior year. She has been playing basketball since age 9.
Last year Madsen tore her ACL in a practice when the team was scrimmaging. It was right before the first game of the season. "I tore it going for a rebound, and my knee felt like it exploded." Needless to say, Madsen was out all last season.
"It was a long recovery, but I finally made it back." What many people say is that it's the "Riverton Curse," because apparently there are many good athletes who tear or injure their knees at Riverton High School.
Madsen has been working hard during practices and looks like she is stronger, faster and better than before. One of her favorite quotes is, "Good is the enemy of great." Her basketball coach in high school used to tell her that. "I like it because it pushes me to be the best that I can be." Good isn't good enough when you can be great.
What does she think of this year's basketball team and strategy? "I think we have a good group of talented girls and a very unique game plan," and "it will be fun to see how our hard work in practice pays off on the court when game time comes."
In her spare time, she likes to play European board games. Her favorite shows are White Collar, The Mentalist and Prison Break. She likes to be outside and spend time with her family, especially with her husband Luke.
Madsen has four sisters and two brothers, and all of her siblings, except for one played basketball.
While at USU Eastern, she is working on her general education requirements and hopes to declare a major soon.
On June 11, Madsen married her best friend, Luke.
He is also a USU Eastern sophomore and they met last year at USU Eastern during the first weeks of school. He is from Preston, Idaho, and served a mission for the Church of Jesus Christ of Latter-day Saints in Micronesia on an island called Kosrae. He played baseball, football and basketball in high school and is in the National Guard for Idaho. He came to USU Eastern to play baseball and is serving as student
body president this year.