Wealth of experience brought to basketball team wih new assistant coach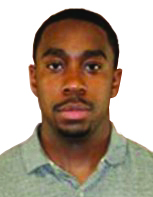 This archived article was written by: Jordan Weihing
This new school year brings new students, new teachers and even a new assistant men's basketball coach.
Assistant Men's Basketball Coach Justin Brown comes from Chicago, Ill. He started playing ball at Paul Robeson High School with NBA player Jeremy Pargo.
Out of high school Brown was recruited by South Plains College located in Levelland, Texas. In the 2006-2007 season Brown helped lead the Texans to the Western Junior College Athletic Conference (WJCAC) championship. After playing for the South Plains Texans, Brown continued his career with NCAA Division II school Southwest Baptist University in Bolivar, MO. There he continued to lead his team to championship opportunities. The two years that Brown played for the Southwest Baptist Bearcats they won conference championships.
After finishing his playing career in 2010, he went home to Chicago to teach ninth grade health when he found an assistant coaching opportunity at his old school: South Plains. In 2011-12, his first season coaching they won a NJCAA Championship with a flawless record of 36-0. The next year they finished third in their division with a record of 22-8.
Brown has an impressive resume including many championship opportunities.
So what does he have to say about USU Eastern's team this year? He says "I think we have a pretty good team – some sorts could be better and some sorts could be worse."
He spoke highly of Eastern's guards this year. He believes they will be the source of the team greatest strength. Brown says, "we have focused on bringing good guards in that can play, guys that are versatile they can play three and four positions. We got some guys that can score"
However, Brown worries about the team's defense this year. He mentioned "only thing these guys know how to do is guard their man, that's it, they don't know about helping, getting back to their man and getting off the ball when the ball is way on the other side of the court…. That's going to be a major focus for us, is guarding and helping each other out."
Brown and Head Coach Adjalma Becheli will work together on both the offensive side and defensive side of the court, but Brown has made it his personal goal to help the team as much as he can defensively. He said, "I will focus more defensively, then offensively will take care of itself. Defensively, if we can guard people and make it tough on teams then offensively we will be fine."
Coach Brown is confident in the team's potential and is sure that this year fans will see some fun basketball. So come out support our team this season.