Miles apart, Coach Vando's wife battles cancer in Brazil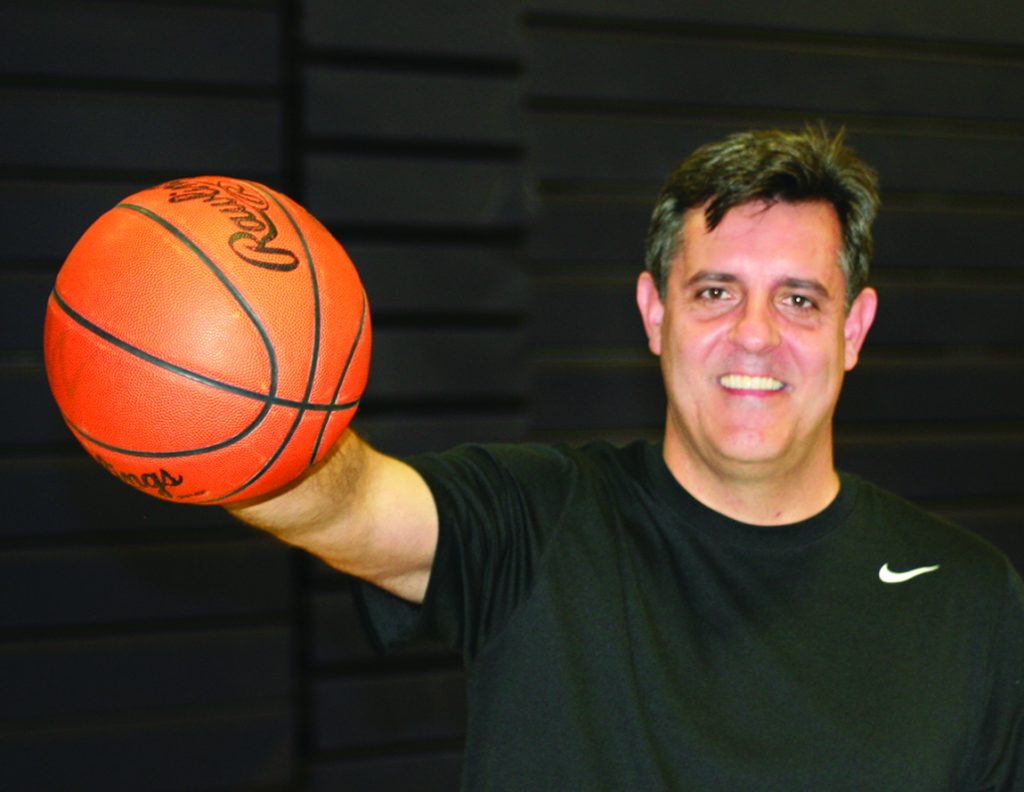 This archived article was written by: Chris Barney
On a street in South Brazil, Coach Becheli (Vando) heard a woman's voice call after him. He was new to the city, and surprise fell on his face as he turned. It was Mariana Gornati, whom he had met eight years earlier while coaching professional basketball in Sao Paulo.
An encounter like this would often go without consequence, but this was the beginning of a relationship that would take him to the United States, Brazil, and back again. "We started going out, dating and the rest is history." That was in 2004. By 2005, the two were engaged, and marriage followed on Jan. 6, 2007.
So why isn't she with him in Price now?
Since moving to Price in 2008, the couple visited Brazil each summer. Coach Vando returns to scout prospective players and visit their families. Because health care is more accessible in their native country, on each return trip, the couple takes advantage and conducts their routine doctor's check-ups. In summer 2011, the routine results didn't come back the way they had hoped. Mariana's gynecologist diagnosed her with uterine cancer in its early stages. Surgery was performed to remove the malignant cells, and the Becheli's thought that was the end of the cancer.
In 2013 the cancer returned. Mariana completed the semester at USU Eastern and headed for Brazil once again, this time without her husband. With no other treatment options, the Bechelis opted for radiation to kill the cancer. Since April 2013, Coach Vando has lived alone in Price, with his wife a five-hour time difference away. The two talk daily to help each other make it through the lonely months.
The two aspire to have their first child at the termination of the radiation. Coach Vando waits with anticipation until his wife will be back in his arms. "She will return Dec. 16. The point is, we are trying to have a baby. She wants to be a mother real, real bad. That's our fight right now. While she undergoes the chemotherapy, she feels terrible for days following each shot."
In Brazil, the Becheli family pays $250 per month for 100 percent health coverage. In comparison to their insurance here, the family's Brazilian health insurance is "so much cheaper." Even with the cost of flights and living separately, sending Mariana to Brazil is more cost-effective for the family.
Mariana' doctor, Daniela Gouveia, played for Vando at the university level years ago in Sao Paolo. Since her playing days, Dr. Gouveia has become a trusted cancer specialist. Dr. Gouveia's promise to Vando, "I promise you I'm going to take care of her" brought him enough comfort to part with his wife for the months that would follow. "She takes care of Mariana like her sister." So far, the treatment issued by Dr. Gouveia has worked well. Only one more shot is needed, followed by a re-evaluation to see if Mariana is fertile.
"It's hard to be in Utah and not be a mother. I will turn 45, and she is 33. We gotta have our baby as soon as we can. Some people think we are divorced because she is not with me."
Despite the trials of chemotherapy, Mariana manages to continue her schoolwork. She is enrolled in the master's program of education online through Utah State University in Logan with an endorsement in ESL.
"It's a lot of work," she says. Mariana considers Price her second home. She began taking classes at the college when she joined her husband here, and learned English while working in the cafeteria. That helped her overcome her fear of speaking, and today, both are adept English-speakers. She has completed her bachelor's degree, with a 4.0 GPA. She has been recognized by USU for her academic achievement.
It appears the future will be bright for the happy couple, there is after all, light at the end of the tunnel. Dec. 16, Mariana will return to Price. The long wait will finally be over, just in time for Scenic West Athletic Conference play.